Art Antiques Contacts database templates for Organizer Deluxe and Pro users
---
Template: Art Antiques Contacts
Template Number: 1009
Provided: PrimaSoft PC
Number of data fields: Database Level:
Platform: Windows
---
---

Art Contacts Organizer - address/contact software solution overview:
Complete template that allows art enthusiasts to organize and manage client and business contacts. Manage your art related contact information including person name, business name, category, phones, email address, contact history, and more.

Art Organizer - address/contact software solution features:

print art contact reports, phone lists (alphabetical lists, by category list, by date)
print address labels
print letters
track contact history
send emails
sort, view address / contact data the way you like


Database Fields Included :
enter

Database and Software Screenshots :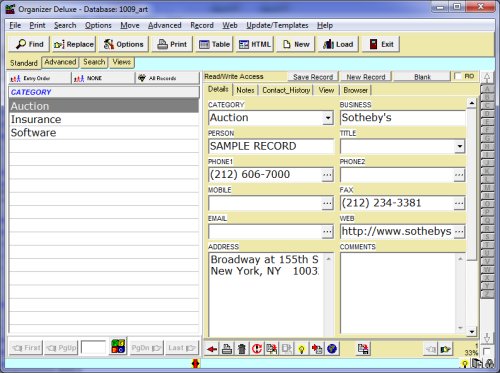 Related database templates
Art Antiques Inventory Detailed/1008, Art Antiques Inventory Simple/1007, Art, Fine Art/1010, Art, Virtual Gallery/1011, Art, Web Resources/1012, Collectibles Inventory (Advanced)/1049

Related software solutions
Art, Antiques Organizer Deluxe, Collectibles Organizer Deluxe, Book Organizer Deluxe, Coin Organizer Deluxe, Stamp Organizer Deluxe,





Over 100 free database templates for Organizer Deluxe and Organizer Pro users.

---

With our database management software and home inventory ready-to-use database you can:

- print inventory reports for insurance

- quickly access your auto customer details

- easily keep contact notes

- track and manage car sales opportunity

- create summaries and reports

- find details quickly with flexible search, sort, or filter



Simple database management features: sort records, print reports, print labels, data entry forms



Simple database management features:
sort home inventory records, print inventory reports, print labels, data entry forms