Software Template Page:Quote Verse Proverb Manager 2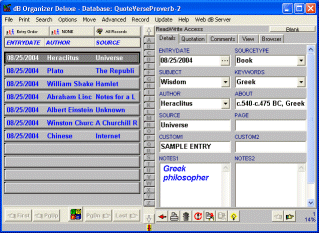 Title:
Quote Verse Proverb Manager 2

Quote, Verse, Proverb Manager software solution overview:
Complete and flexible quote and verse management software solution for Windows users. Manage your quote and verse information including entry date, author, source, topic, quote, notes, and more.

Quote, verse software solution features:

Easily organize, track, manage any information related to your favorite quotes, verses and proverbs.
Find details quickly with flexible search, sort, or filter.
Print reports, summaries, HTML catalogs.