Question/Topic: Attachment Fields
Attachment Fields
Attachment Fields allow you to attach external files to the records (Audio file, Video file, Word Processor file, Graphical file, Text file, ... ). Later you can start an associated application (Word Processor, Notepad, Movie Viewer, Sound Player,...) with a corresponding file. The Attachment edit box is disabled - you can not enter the name of the file manually. The attached file and the corresponding application has to be selected in the Attachment dialog box. Pressing on the '...' button of the edit box displays the dialog box.
How to use
This type is useful for storing files that you would like to view or modify in the associated application.
Functions (Popup Menu):
Displays the whole path of the file stored in the attachment field;
Clear : clears the contents of the field;
Run : it will try to run an application associated with the file according to the file extension (Windows default association will be used).
Set/Run : allows you to edit the file link, change the associated application, or run the associated application;
Select : allows you to select the file from the Standard File box;
---------------------------
Set Font: allows you to select the font for all single-line edit controls;
Set Color: allows you to select the text and background color for all single-line edit controls except numeric fields;
Example:
Data Page from Digital Document Manager Deluxe.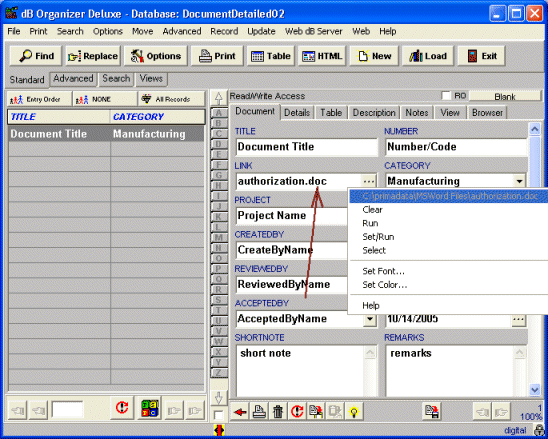 Data Page from Movie Organizer Deluxe.