Question/Topic:
How to setup Handy Email feature?



Click Setup button. Setup button is available from all Send Email windows.
Type in the following values:

SMTP Host : this is your email host for sending out email messages; see your main email client software for the correct SMTP Host;
My Name : your first and last name;
My Address : your full email address e.g. jsmith@aol.com
Reply To : your return email address (you can leave it blank);
Use Auto-Dialer option : check this option if you want Handy Email to connect to the Internet when needed (you can leave it unselected);
Dialup Connection : select your Internet dialup connection from the list if you checked "Use Auto-Dialer".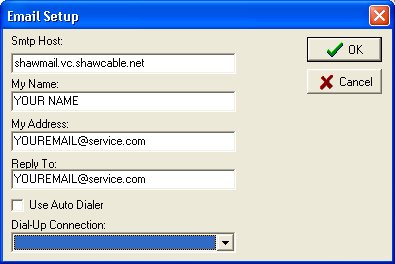 Where you can use Handy Email feature?
On the Web menu click Send Email.
If database has EMAIL ADDRESS field type then the field is linked to Handy Email feature. The popup menu of the field has Send Email feature. You can send email to one recipient(record) or selected recipients(records) or all recipients(all records. Example: Address Organizer Deluxe, Contact Organizer Pro.
There are several database solutions (Library Solutions) that are using Handy Email feature in a customized way. Example: email book overdue notices.