Question/Topic: How to import records from excel files?
Can I import my current inventory saved in Microsoft Excel into your software?
Save your Excel file as a text file (tab delimited).
Start Excel and load your worksheet file you want to save for import into our program..
On the File menu, Click Save As.
In the File name box, type a name for your file.
In the Save as type box, click Text (tab delimited).
Important: Remember a folder where the text file was saved.
Click Save.
Check sample screen snapshots, listed after text instructions.
Import data from the text file into our program.
Start our Organizer Deluxe and open/load the database to import the new records.
On the Advanced menu, click Import.
In the Import Source window select Text File and click OK.
In the Import Options window select data fields that are in your text file. Important: only select the fields that are in your text file; selected fields have to be in the same order as they are in your text file.
Click Import.
Select your text file in the Enter/Select Import File window and click Open.
Review imported record.
This is a sample worksheet in Microsoft Excel.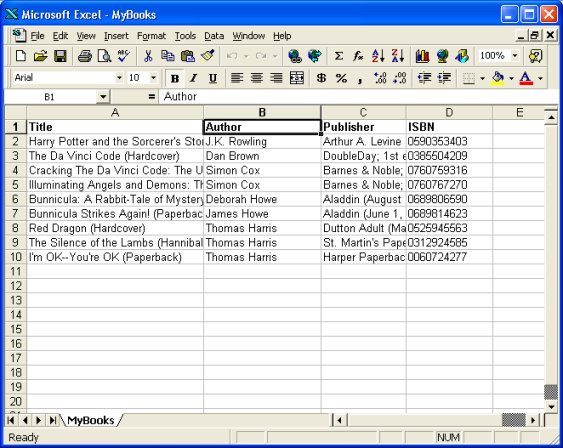 The above sample worksheet is saved as a text file (tab delimited): MyBooks.txt. Invisible tab character is between data fields.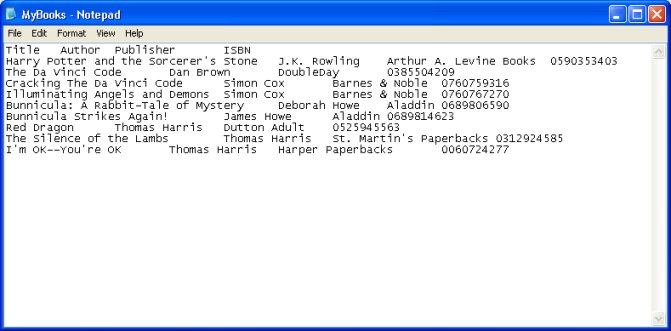 Organizer Deluxe, Import Options window. Important: the Fields Included box contains only fields that are in MyBooks.txt file. The order of the selected fields is the same as in the MyBooks.txt file.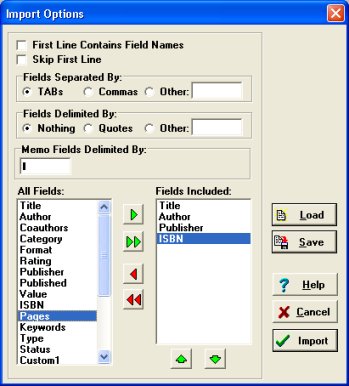 Select Import File window. Select the MyBook.txt file. The file that was created from the Microsoft Excel program (text file, tab delimited).