Question/Topic:
How to reserve an item?



This feature is available in all Library solutions and Inventory solutions that use Check-In and Check-Out feature (version 2.4 and up; release date: June, 2010). You can upgrade your program: Upgrade Software.

How to check a status of the reserved item?
find an item in the main database
on the Loans/Return menu, click Manage Reservation
all reservations for the selected item are displayed
click Manage Reservation command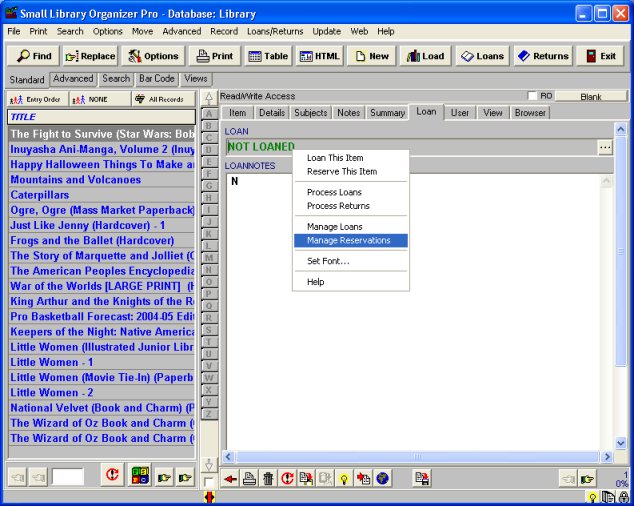 Manage Reservation window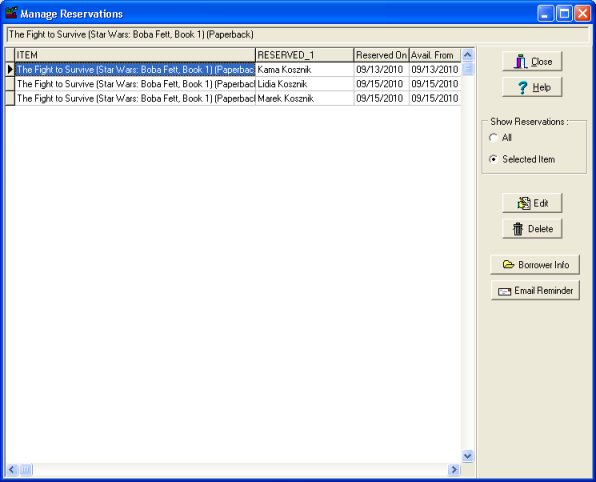 How to check all reserved items?
on the Loans/Returns menu, click Manage Reservation
in the Manage Reservation window click All (Show Reservation section)
How to edit a reservation?
open Manage Reservation window
select an item in the table
click Edit
How to modify Reservation Notice (e-mail message)?
modify reserve.txt file. The file is stored in the following folder: C:\INSTALL_FOLDER\DATA\
INTALL_FOLDER stands for the name of your installation folder
you can use the following keywords: <DATE>, <BORROWER>, <BOOK_TITLE>, <RESERVED_UNTIL>