Question/Topic: How to print library report: value of the collection?
Is it possible to produce a report that gives the value of the library collection?
When you enter your data:
- Enter item's purchase price or item's current value into Price or Value data fields.
- Enter purchase dates, you will be able to generate library expense reports by week, month, year,..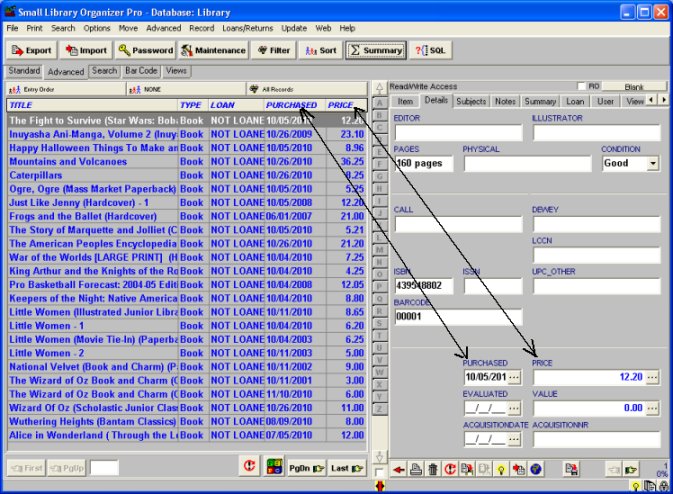 1. Summary window: display/print value of your library collections.
On the Advanced menu click Summary.
Select Type (or Category) in the Summary By box.
Select Price (or Value) in the Numeric Field box.



Click Graph to display summary graphs.



Click HTML to display the report in a browser.



Click PRINT to print the report.

2. Print Wizard window: print value of your library collections report.
Sort library records by TYPE (or CATEGORY) data field. You will be able to print grouped report (use the sort if the total number of items involved is so great that individual library pricing report is not practical)
On the Print menu click All Records/Print Standard Report.
Select data fields.

Click Preview to review the report. If you are not satisfied with the report adjust the report options: column widths, page margins, font size,...

Select Summary (Print Only Groups and Totals) option.


Report sample with Summary (Print Only Groups and Totals) option: