Question/Topic:
Does your library software offer simple-checking or self-checking?



Similar questions:
We have students, volunteer beginner librarians that process loans/returns for the library. How can I allow them to process loans/returns in a very simple way?





Check In/Check Out Simple Mode (Self-Checking Mode)

This feature is included in the Library solutions starting with version 2.1 (release date: March, 2009). You can upgrade your library solution: Library Upgrade.





All Library Organizer Pro solutions include separate Check In/Out module. Check In/Out module can operate in two modes:
Advanced: process multiple items in one transaction, process fines, process renewals, auto processing mode,..
Simple: process loans and returns in an easy way (for students, volunteers; supports self-checking)






Check In/Out Simple Mode how to set it up.
Start Library Pro software
Open main Library database
On the Search menu, click Process Loans
In the Process Loans window click Show Options (1)
Click Simple Mode (2)
Close windows and Library Software
Start Check In/Out Library Module
Check In/Out Library Module appears in a simple mode.

Library Process Loans window, set simple mode feature.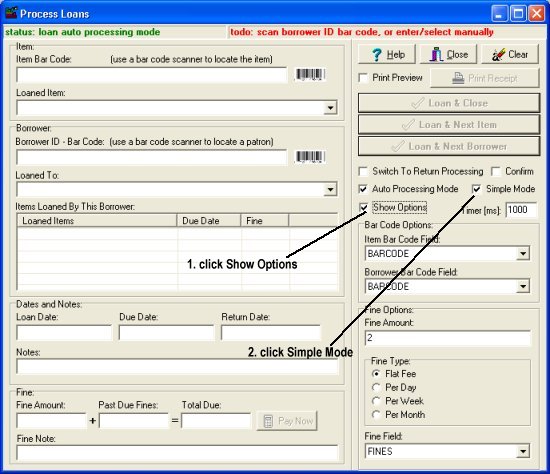 Library Simple-Checking/Self-Checking Module:


Simple-Checking(Self-Checking) mode supports:
Returns
type in or scan item id (barcode)
item title is displayed
click Return This Item to finalize the return transaction
Loans:
type in or scan item id (barcode)
item title is displayed
type in or scan borrower id (barcode)
borrower name is displayed
click Loan This Item to finalize the loan transactions