Question/Topic: How to install customized pro database solution ?
Customized pro solution is sent to you as an email attachment (solution_name.zip).
Create a temporary folder on your hard drive.
Save the solution file (from email attachment or downloadable file) in the temporary folder.
Start Designer Pro:
a) Start Windows Explorer and open the folder where you installed the Organizer Pro program. Click on the Designer.exe file to start it.
b) You can also start the Designer from the desktop, click on the Designer icon.
c) You can also start Designer from the Windows Start/All Programs/Organizer Pro/Designer menu.

In the Designer window click Restore / Verify Data from Backup.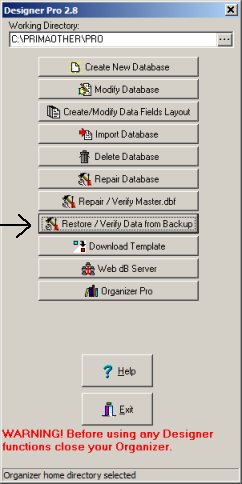 ---
In the Restore window click on the Browse, open the temporary folder, and select the file that you saved from our email attachment.
Click Next.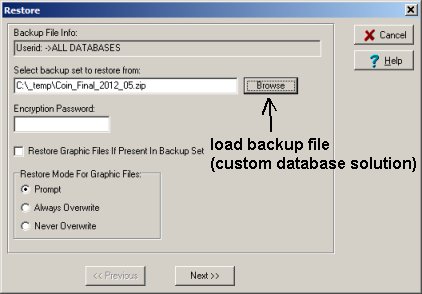 ---
ALL DATABASES option should be selected as in the window below.
Click Next.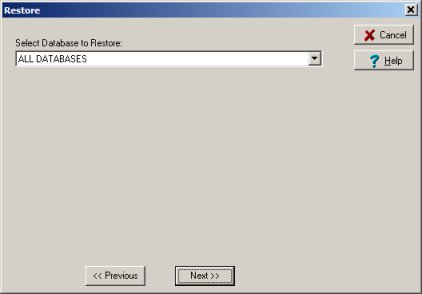 ---
Click Start Restore.
Click Yes in the Confirm window.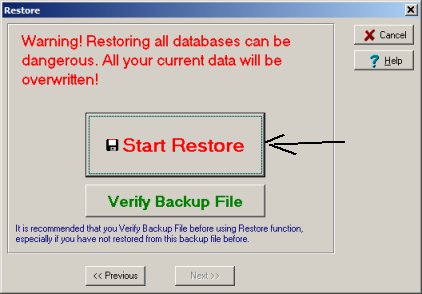 ---
Close Designer
Open Organizer Pro
---

Warning:
When you restore all your databases from the solution file all your current content is going to be overwritten. To save your current content run Backup, select Back Up All Databases option.

Note:
Backup/Restore procedure is the best way to move/transfer database from one computer to another.