---
---
5/5 stars: "Outstanding in all respects. One of the best of its class."

"a great download for personal or business use"



12.Check In/Out Organizer Pro: Summary, graph, statistics

A summary of records in the database can give you some insight into distribution of your warehouse, rental, library, facility collections. Displaying a Graph can make it easier to grasp the overall picture and uncover trends in your circulation data.

Example from Library Software: Summary.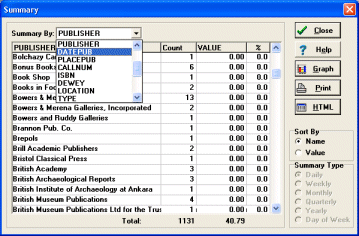 Buy Now
Go ahead. Try our product in your home or office for 30 days risk-free. If it doesn't meet or exceed every single one of your expectations, we insist you return it for a courteous, no questions-asked refund.

Secure Online Ordering, Mail, Fax, Phone: Online Store



Try Now / Download
Download free, fully functional trial version. The trial version will expire 45 days after installation. Click here to download Check In/Out Organizer Pro, software for Windows 95, 98, ME, 2000, NT, XP