How to configure Search Utility
Search configuration files are in the Search folder: search.ini, searchf.ini.
You can open search configuration files with any text editor (example: Windows Notepad)
Search configuration files allow you to define: - which database fields are included in the Search By drop-down box (A) - which fields will be displayed in the Search Results table (E) - which database will be searched - which fields will be displayed in the Detail Display section (F)
---
Simple Search (Library Administrator) Librarian can use the software Search function. With this software, you are able to locate a piece of text in any field with the capability of moving to the next record filling your search criteria.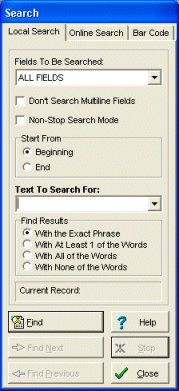 ---
Search/Replace
The Replace function helps you to replace the entire or the part of the field's content with a new value. This function is useful for library administrators who want to make global changes on the selected field in the entire library catalog. Example: use replace feature to create book barcode/id values for all your records.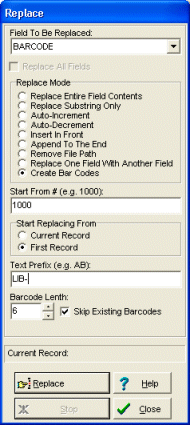 ---
Barcode Search
The Bar Code Search function helps you to locate the record which has been assigned a particular barcode (or any number in the text form). Simply scan the barcode (or enter manually) and the program finds the record automatically.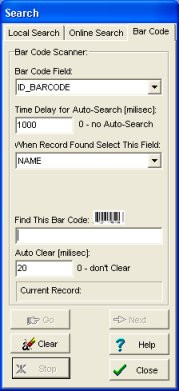 ---
Additional Search Features
Additional search features: incremental search, search online, find duplicates, non-stop search.
Incremental search: Entering a character into the Fast Find edit box will result in the immediate action (Incremental Search).
Search Online: define online search engines in the program, to use them later you will enter only a search text and click OK.
Find Duplicates: this function allows you to display and/or delete duplicate library records based on a selected data field. For example, you can easily find and eliminate records with the same book title.
Non Stop Search: the library software goes through entire database looking for records that match search criteria. When the search is finished ONLY those records are displayed that contain the text.
---