Church Library Software Tour
1. Church Library management solution

2. Easily catalog library items

3. Search, replace Library records

4. Print reports

5. Print labels (spine labels, barcode labels, cd labels,...)

6. Enter, modify data, auto cataloging

7. Sort, Filter Library records

8. Personalize, Summary, more

9. Network, multi-user, Backup, HTML wizard

10. Library Add-ons

---
---
3. Church Library / Search, Replace
Libary Search Utility (OPAC)
Simple Search
Search/Replace
Barcode Search
Additional Search Features
---
Church Libary Search Utility (OPAC)
Library Search Utility (OPAC): is a stand-alone application. Search Utility allows you to process search transactions without launching library database system. Your church library inventory and member databases are protected from unwanted modifications or deletions. Search Utility can be used on one computer or on the network.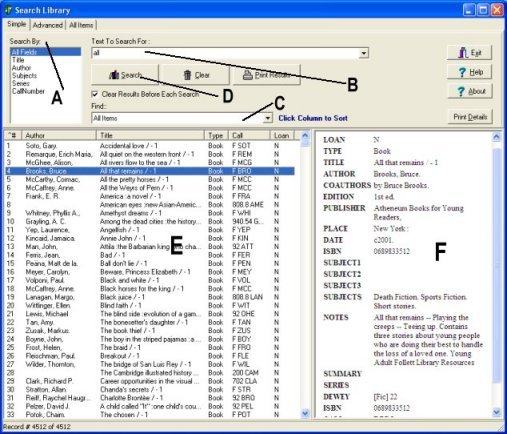 How to configure Search Utility
Search configuration files are in the Search folder: search.ini, searchf.ini.
You can open search configuration files with any text editor (example: Windows Notepad)
Search configuration files allow you to define:
- which database fields are included in the Search By drop-down box (A)
- which fields will be displayed in the Search Results table (E)
- which database will be searched
- which fields will be displayed in the Detail Display section (F)

---
Simple Search (Library Administrator)
Librarian can use the software Search function. With this software, you are able to locate a piece of text in any field with the capability of moving to the next record filling your search criteria.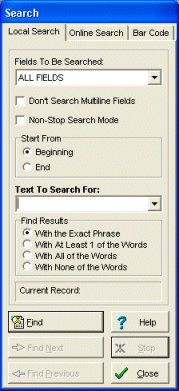 ---
Search/Replace
The Replace function helps you to replace the entire or the part of the field's content with a new value. This function is useful for library administrators who want to make global changes on the selected field in the entire library catalog. Example: use replace feature to create book barcode/id values for all your records.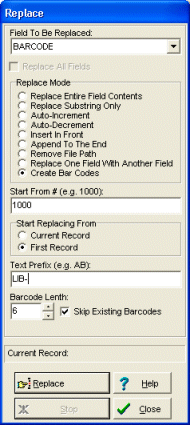 ---
Barcode Search
The Bar Code Search function helps you to locate the record which has been assigned a particular barcode (or any number in the text form). Simply scan the barcode (or enter manually) and the program finds the record automatically.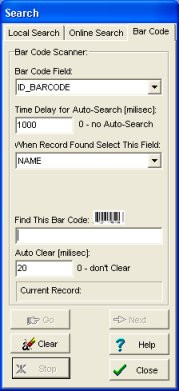 ---
Additional Search Features
Additional search features: incremental search, search online, find duplicates, non-stop search.
Incremental search: Entering a character into the Fast Find edit box will result in the immediate action (Incremental Search).
Search Online: define online search engines in the program, to use them later you will enter only a search text and click OK.
Find Duplicates: this function allows you to display and/or delete duplicate library records based on a selected data field. For example, you can easily find and eliminate records with the same book title.
Non Stop Search: the library software goes through entire database looking for records that match search criteria. When the search is finished ONLY those records are displayed that contain the text.





---


Buy Now
Go ahead. Try our product in your home or office for 30 days risk-free. If it doesn't meet or exceed every single one of your expectations, we insist you return it for a courteous, no questions-asked refund.
- Secure Online Ordering, Mail, Fax, Phone: Online Store


Try Now / Download
Download free, fully functional trial version. The trial version will expire 45 days after installation. Click here to download Church Library Software, Pro, software for Windows


Library Software Solutions: comparison table.
Library software solution: primer
---
---
PrimaSoft Library Database Solutions for Windows:
Church Music Library Database: simple music library database system.
Church Movie Library Database: simple movie library database system.
Check In/Out Organizer Pro: flexible check-in and check-out transaction management software that you can easily customize to your specifications.