Question/Topic: Enter employee, member, borrower, student, job site, ...
1. Open Employees database:
On the File menu, click Load Database. Select Employees database and click Load
You can rename Employees database (suggested names: Students, Personnel, Borrowers, Jobs, Sites).
2. Create a new record:
There are three ways to create a new record: On the File menu, click New Record; On the record display form click New Record; At the end of the table of contents, click on the empty row.
A new record will be prepared for data entry, you will be positioned in the Item Details Page. Simply enter your data in the fields on the Details Page (label names suggest the type of data you are supposed to enter).
The new record is saved automatically when you select another record, click on the Save Record button, click on the New Record button, or Exit from the program.
Important: The only field that needs to be entered is NAME. This field has to be unique. If you have several employees, students, job sites with the same name enter them in the following way:
"Smith, John 1"
"Smith, John 2"
enter employees (students, job sites) data: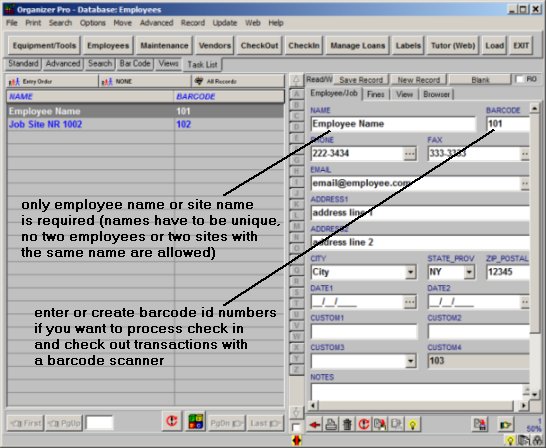 Notes:
You can process check in/out transactions using only member name.
Enter EMAIL address. Equipment/Tools Check in/out feature will allow you to email overdue notices or tool crib news.
Enter BARCODE numbers. Our equipment/tools check in/out database will allow you to print member cards with barcodes. You will be able to process check in/out transactions with barcode reader. You can enter id barcode numbers manually or you can create all numbers automatically when you enter all members.
Enter ADDRESS. Our software will allow you to print mailing labels.