Question/Topic:
How to reserve an item?



This feature is available in all Library solutions and Inventory solutions that use Check-In and Check-Out feature (version 2.4 and up; release date: June, 2010). You can upgrade your program: Upgrade Software.

You can access the Reserve feature in 3 ways:
in the Check In/Out transaction window click Reserve
in the main program click with the right mouse button on the LOAN field and select Reserve This Item
in the main program, on the Loans/Returns menu, click Reserve This Item
How to reserve an item?
Method 1:
Open Process Loans window.
In the Process Loans window click Reserve
In the Reserve Item window select a patron:

a) scan or enter a borrower barcode number (id number)
or
b) select the borrower name in the Reserved By box.
In the Reserve Item window select an item: a) scan or enter manually an item barcode number or
b) select the item in the Item Name box.
Click Reserve
Method 2:
In the main program find the item that you would like to reserve.
For the selected item:
a) click with the right mouse button on the LOAN field and select Reserve This Item
or
b) on the Loans/Returns menu click Reserve This Item
In the Reserve Item window select a borrower: scan or enter manually a borrower barcode number (id number) or select the borrower name in the Reserved By box
Click Reserve


Reserve Item window: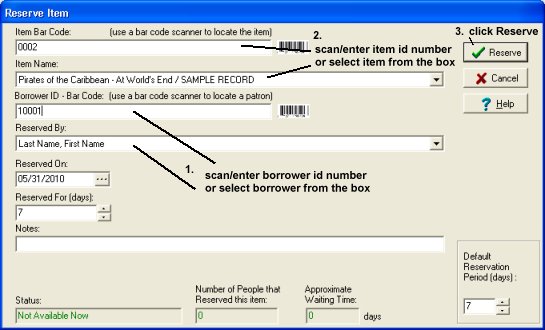 Access reservation feature from the LOAN field (find an item, clik on the loan field, select Reserve This Item):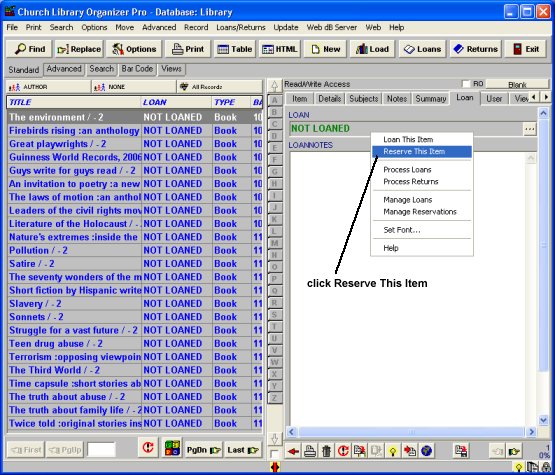 Access reservation feature from the Process Loans window (open Process Loans window, click Reserve):