Question/Topic: How to define/change categorized/default Due Date Period(s) ?
How to define/change Due Date Period for Software License Tracker
Open Manage Loans
On the File menu, click Load Database. Select and load Library database.
Open Manage Loans windows:
a. Click on the Loan tab. Click with right mouse button on the Loan field to display pop-up menu. Select Manage Loans command.
b. On the Search menu, click Manage Loans
In the Manage Loans window (screen snapshot below) click Set Due Date Period (1).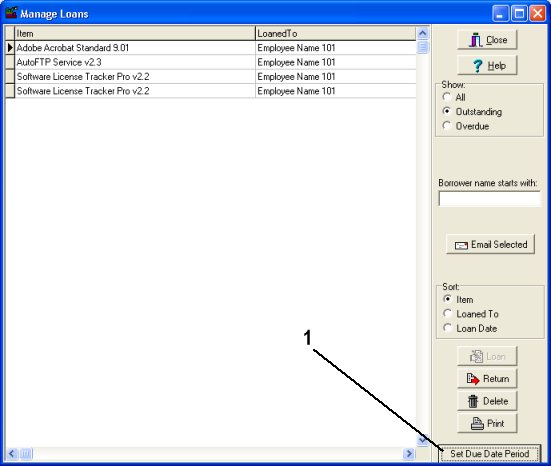 How to define categorized due date period?
How to define/modify default due date period?
Select the field in the Use this Data Field to determine Due Date Period (1) box. For example you can select item CUSTOM6 data field. This field has values like: Unlimited, 1-year, 6-months, 1-month.
Enter the value of the field into Field Value (2) edit box (for example: 6-months), enter the number of days the item can be loaned in the Due Date Period (180) edit box. Click Add/Edit button to add the setting to the Due Date Period list.
Repeat this procedure for other item types that do not use Default Due Date Period.
Note: Default Due Date Period (4), this value will be used:
a) you do not define categorized due date periods for some values of the drop down list box (CUSTOM6)
b) the software record does not have any value in the CUSTOM6 data field.