2. Create contact database easily
You can start using Contact software solution with ready to use database templates. If the contact databases already created are not exactly what you are looking for you can easily create a new one with the Designer.
Our database software is easily extendable. You can add new databases to your contact manager. There are over 100 database templates ready to use. Related database solutions: Notes menagers, todo databases, customized contact organizers (for real estate, car dealers), personnel organizers, expense organizer, document managers, library system.....
No need to recreate your contact database, use powerful import feature to move your database to our contact software.
Quickly define or modify structures for your Contact software solution with Designer.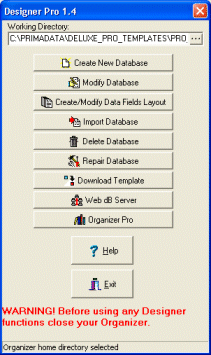 Contact Software: create/modify contact databases.