---
Dictionary software: our database software solution enables you to build and manage business glossaries, science terminology books, or personal dictionaries.

11. Filter dictionary records

You can limit the number of records displayed in the software. You can specify a criterion for one or more fields. The more criteria for the filter you specify, the better chance of obtaining the range of records that interest you.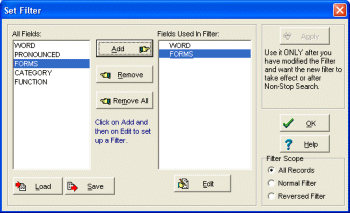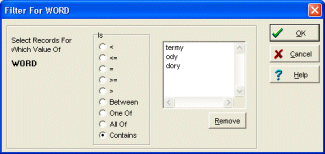 Buy Now Dictionary Software Solution
- Secure Online Ordering, Mail, Fax, Phone: Online Store


Try Now / Download
Download free, fully functional trial version. The trial version will expire 45 days after installation. Click here to download Dictionary Creator, Manager Deluxe , software for Windows