Search, replace
Stockroom Software, search: The Local Search function helps you to locate records that contain the piece of data you are looking for. With this software, you are able to locate a piece of text in any field with the capability of moving to the next record filling your search criteria.
Stockroom Software, search: search by any field, define simple/complex search.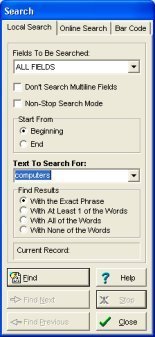 Stockroom Software, replace: The Replace function helps you to replace the entire or the part of the field's content with a new value. This function is useful for users who want to make global changes on the selected field in the entire database.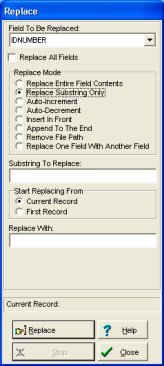 The Bar Code Search function helps you to locate the record which has been assigned a particular barcode (or any number in the text form). Simply scan the barcode (or enter manually) and the program finds the record automatically.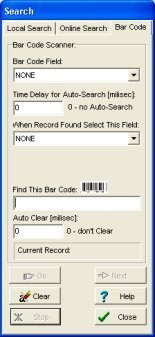 Additional search features: incremental search, search online, find duplicates, non-stop search.
Sort stockroom records
The program organizes and displays the data efficiently, so that the information is readily accessible in a variety of ways.
Sort your stockroom records on any field.
Filter stockroom records
You can limit the number of records displayed in the software. You can specify a criterion for one or more fields. The more criteria for the filter you specify, the better chance of obtaining the range of records that interest you.
Stockroom Software: define filter for the selected field.
Stockroom Software: define filter, choose stockroom data field