AutoFTP Service maintains a detailed Activity Log so you can easily find out which transfers were successful, which failed and why.
The log files are stored in "logs" subdirectory with one log file per day. The log file names are based on the system date e.g. 09_16_03.txt. The log files are in a standard text format.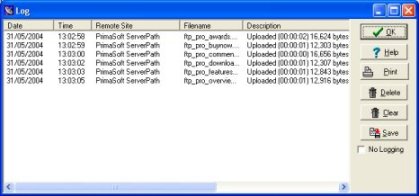 ---
" This program will automate your daily FTP needs automatically. Just plug in which reoccuring files you need to update to your site, and it does the rest. You can send files as often as every two minutes. ... "
You can setup the complicated transfers into templates and save them. In conclusion. This is THE program to get file transfers done on a schedule automatically and easily ...
Keywords: transfer history, ftp review trasfers, ftp notify, review ftp backup, log, log file, transfer log Other key features:
Auto transfer, transfer scheduler
,
Transfer Set
,
FTP Template
,
Activity Log
,
Special Action
,
Zip and Unzip
,
Download Site, Folder
,