Using the Copy Record To Clipboard function will help you move the content of the whole record to another application (example: Notepad, Microsoft Word, EMail Client, .. ). The content of all fields with their labels is copied to Windows Clipboard. The sample format is listed below. If you want to copy your record in a different format than listed below you can use Copy Record To Clipboard From Template.

The function is accessible from the Record (A) pull-down menu or the right-panel popup (B) menu.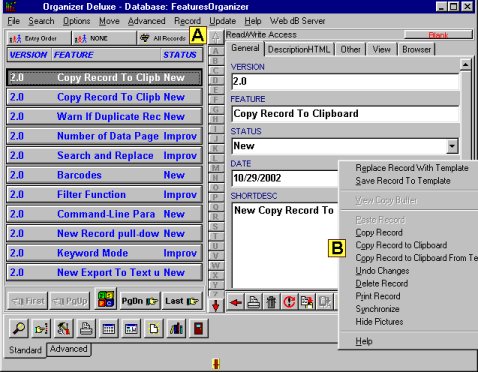 Sample Format, from Address Organizer Deluxe


COMPANYNAME
PrimaSoft PC, Inc.
WEBADDRESS
http://www.primasoft.com
ADDRESS
P.O. Box 456
Surrey, BC V3C 4Z7
CANADA
...
...