This function allows you to delete the entire content from the selected folder. Delete Site / Folder ftp command can be saved as a transfer set and used in scheduled transfers.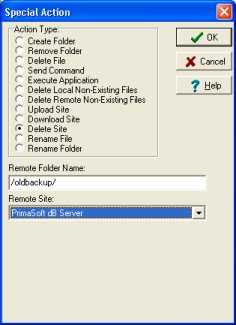 The easiest way to use Delete Site (Folder) :
1. Connect to the ftp server first and select a remote top folder .
2. On the View menu click FTP Transfer Manager.
3. In the Transfer Manager dialog box, click Add Special button.
4. In the Special Action window verify Remote Folder Name. All subfolders and all files under the selected remote folder will be deleted.
5. In the Action Type section select Delete Site and click OK.
6. To start the Delete Site click Start in the Transfer Manager window.
---