How to install Calendar 2 (1026):

Start Organizer Advantage
On the Templates (1) toolbar click Download Template (2).

Calendar 2 (1026) template is included in the IT, Office package. Select IT, Office in the Template List (1) box. The details (package name, templates included, template numbers, ...) will be displayed below (2) and on the right side in the browser box (3).
Click Download (4) to install the selected package.

Click Yes to confirm the selection and to continue with the installation.

Wait for the Information window.

The IT, Office package with Calendar 2 (1026) is downloaded from our site, installed on your computer, and Organizer Advantage opens it in the new database (1). You can review it before you move it to your Main database.

---
Calendar 2 (1026) is included in
IT, Office Organizer Advantage
. You can also download, install, and try Organizer Advantage on your computer:
IT, Office Organizer Advantage
.
---
Organizer Deluxe/Pro Users
---
Free Calendar 2 (1026), instructions for Organizer Deluxe/Pro users
start Organizer Deluxe
click Download Free Database Templates menu command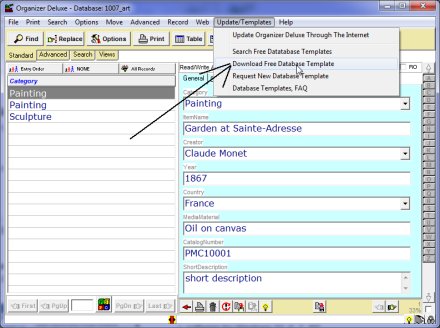 ---
Select Calendar 2 (1026) in the List Of Available Templates (1)
Verify the number.
Click Select (2).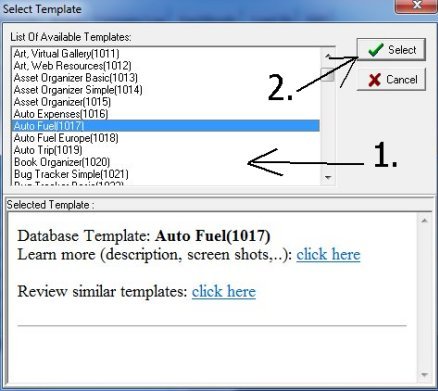 ---
Template is downloaded and installed.
Click Load Database menu command.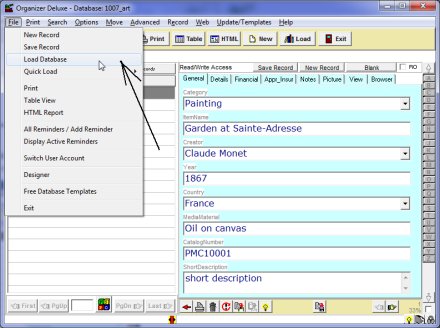 ---
The database name is composed of the template number 1001 and 3-5 letters (1).
Click Edit to edit the name (2).
Click Load (3) to open the database.