Question/Topic: How to print library barcode labels (book labels)?
How to print patron bar codes?
We suggest to use Code 39 barcode. It is an easy to print barcode. It is commonly used on labels such as name badges, inventory labels, book labels, patron labels. It can be used for alpha-numeric barcodes. Almost all barcode equipment reads/prints Code 39.
1. Create unique barcode entries for all your items(books).
2. Print library barcode labels for all your items.
On the Print menu, select All Records and then click Print Labels. Select TITLE in the All Fields box and click the Green Arrow button. Select BARCODE in the All Fields box and click the Green Arrow button. The TITLE and BARCODE fields are listed in the Included Fields box.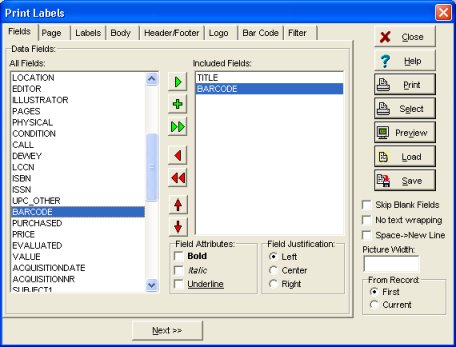 ---
Click on the Labels tab. Select AV 5160 label type in the Label Type section. We suggest to use AV 5160 Avery type (3 across, 10 down).
You can use other label types:
- AV 5163 (2 across, 5 down, 10 labels per page).
- AV 5197 (2 across, 6 down, 12 labels per page).
- Click Specialize in Label Type section, select Avery 6577 Durable, (3 across, 16 down) (small height, print barcodes without book titles)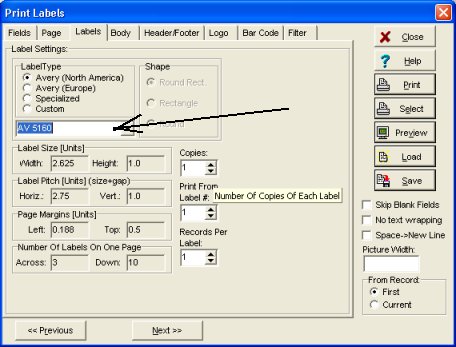 ---
Click on the Body tab. Define margins: in the Left box type 0.15, in the Top box type 0.15. Click on the Change Font button, select Arial in the Font box, select Regular in the Font Style box, and select 8 in the Size box, click OK.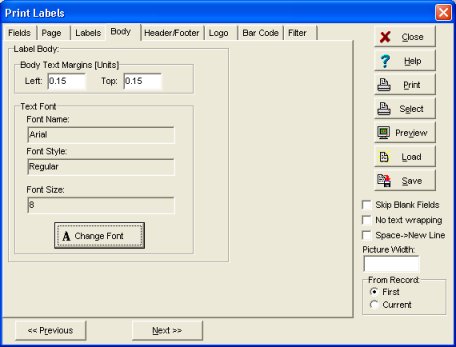 ---
Click on the Bar Code tab. Select BARCODE in the Bar Code Field box. Select CODE39 in the Bar Code Type box. Select Arial in the Font Name box. Do not change value in the Font Scaling box (should be 100). Enter 60 in the Height Scaling box. Do not change value in the Bar Code Size box (should be Normal). Click on the Text Readable (text that represents bar code will be printer below the bar code). Click on the Preview button. If you are satisfied with the result select Print command.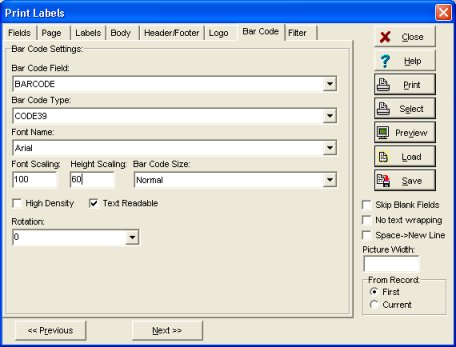 ---
Note: Almost all Avery label types are predefined. If you are using different brand you can verify which Avery type is similar and choose this type. Very often you can find this information on the label box.
Note: You do not have to define library bar code label parameters each time you want to print labels. You do it once, when you are satisfied with your settings (label type, bar code type, bar code size, margins, fonts#) you can save all your parameters into a label template. Next time when you want to print barcode label(s) you just load your label template and you are ready to print.
Note: The above settings are saved to Book Bar Code label template. In the Print Label window click Load, select Book Bar Code template and click OK. You are ready to print if you are satisfied with our default settings.
Note: Do not choose a label type that is too small. Label types with a large number of labels do not have the appropriate size. The program will try to fit the barcode image into the label regardless of your settings. The printed book bar code could not be readable by your bar code scanners.
Barcode labels, preview screen:
AV 5160 Avery type (3 across, 10 down)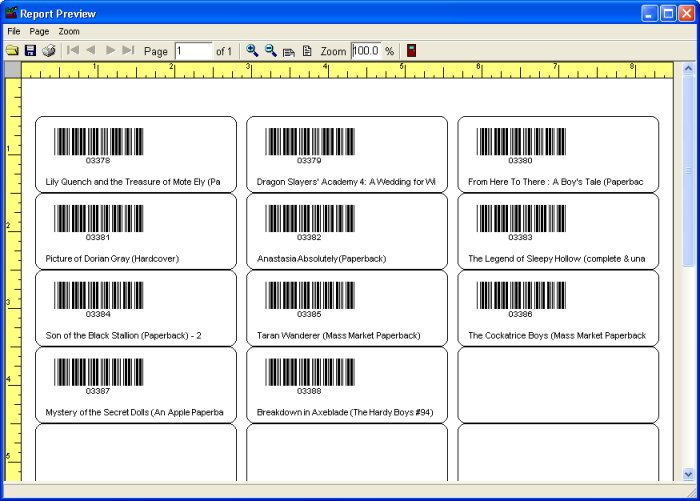 AV 5197 Avery type (2 across, 6 down)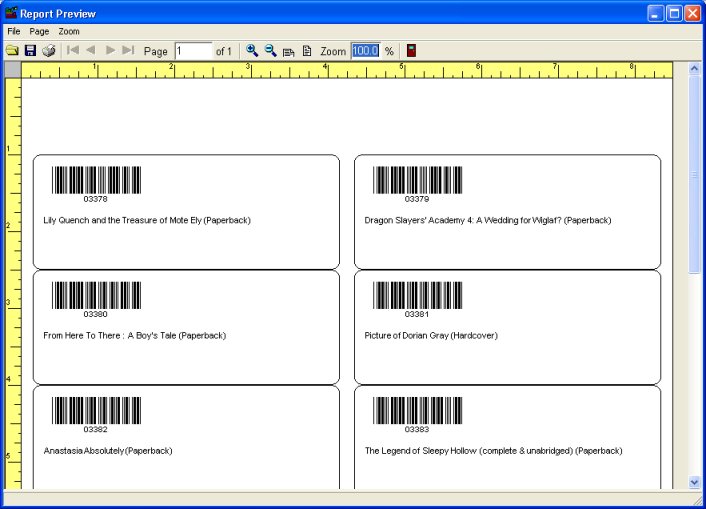 AV 5163 Avery type (2 across, 5 down)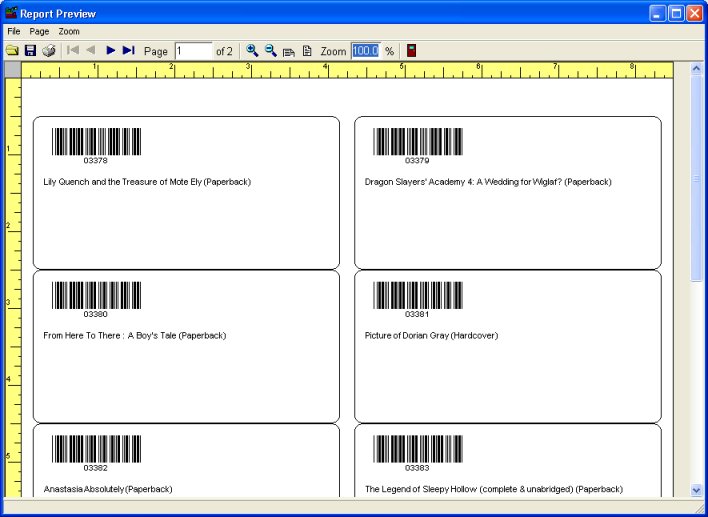 Avery 6577 Durable (3 across, 16 down)