Equipment/Tool Organizer Pro (School Equipment Inventory)

for Windows 8/7/Vista/XP/95/98/Me/2000/2003/NT ..

---

Small school equipment inventory for athletic equipment managers, lab supervisors, tool rooms. Windows software.

Equipment/Tool Organizer Pro will help you to easily manage your school inventory, athletic equipment, video, audio, and photography equipment, borrower information, and circulation transactions. You will find all the features necessary to perform all your equipment management tasks.

In the development of our equipment/tool management application we used valuable ideas, suggestions, and requests from electronic equipment, sport equipment, or lab managers!

Try Equipment/Tool Organizer Pro, free. In minutes you can track and manage your data. Download free, fully functional trial version:

Learn more, review screens from the software:



---
Easily manage your video, audio, electronic, athletic, tool inventories crib inventories:
enter equipment name, id number, barcode, category, storage place, ...
track equipment repair costs, tool maintenance information, ...
enter image, link to equipment specification documents, ...
manage equipment being checked in and out, ...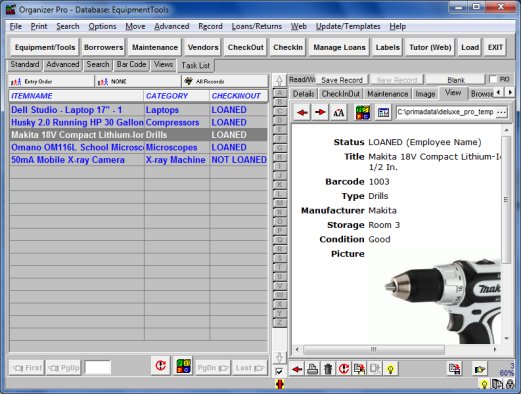 ---
Track employees, job sites:
track all users of your school equipment: teachers, students, projects, ...
enter names, addresses, phones, emails, pictures, ...
enter barcode id numbers, print id cards ...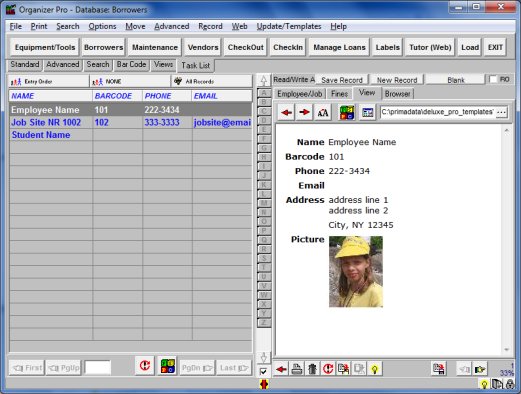 ---
Process check in and check out transactions:
Check items in or out, renew items, make reservation, or collect fines, ...
Easily process check in and check out transactions:
1. automatically with a barcode scanners and barcode labels
2. manually by entering equipment and borrower id numbers
3. manually by selecting equipment name and user name from the list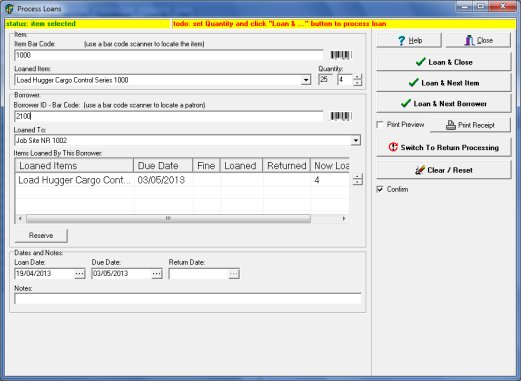 ---
Loan management, who has what, list overdue items:
view items already checked out along with the user information, ...
quickly display all outstanding or overdue items, ...
display checked out items for the selected borrower, ...
send email reminders, print reminder letters, ...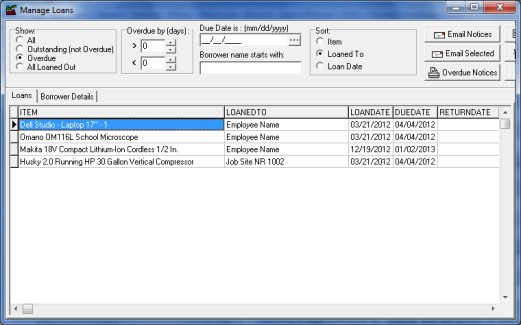 ---
Create circulation reports, inventory report:
print school equipment inventory lists, reports with images, ...
create inventory value summaries, ...
create school equipment catalogues, ...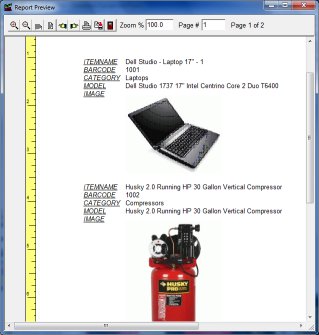 ---
Print school equipment barcode labels, borrower id cards:
print school equipment tracking barcode labels, asset labels, item tags, ...
print student/teacher id cards, ...
create custom labels or use standard size labels, ...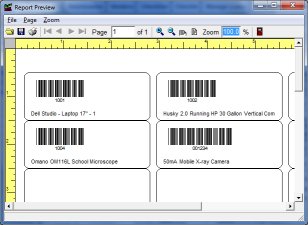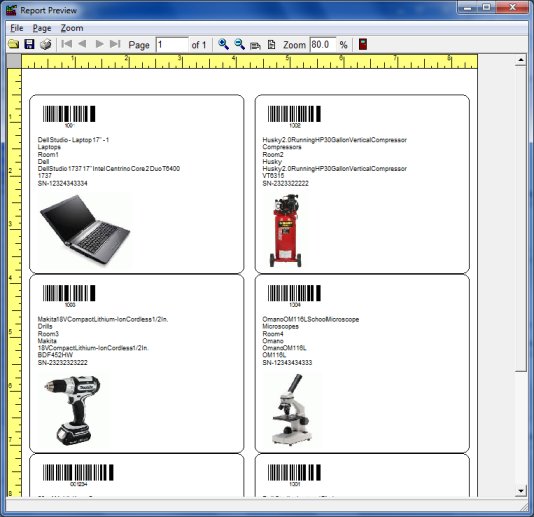 ---
Give access to inventories, search module:
let users to search your school equipment cataloge, ...
let users to check what is available, ...
easily search for equipment by any field: name, id number, category, type, ...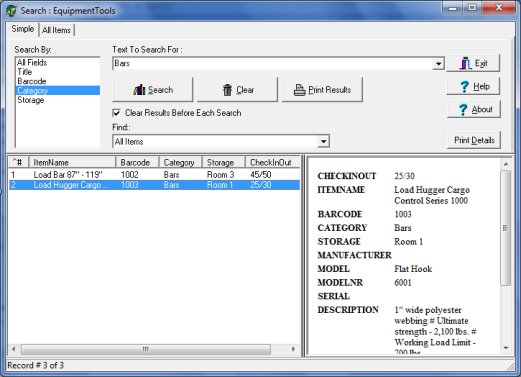 ---
Protect your databases, process backup:
backup your databases, ...
process inventory procedure, ...
check for duplicate records, ...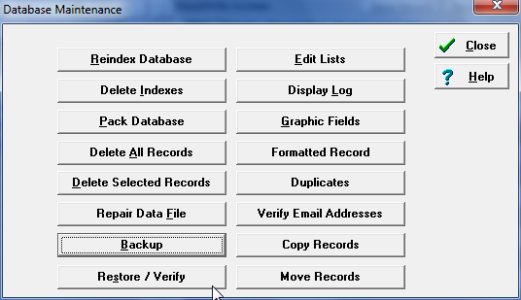 ---
Store other important data, tool/equipment suppliers, tool/equipment repair transactions:
track vendors and suppliers, ...
enter repair and maintenance transactions, ...
download any database template from our solution center, ...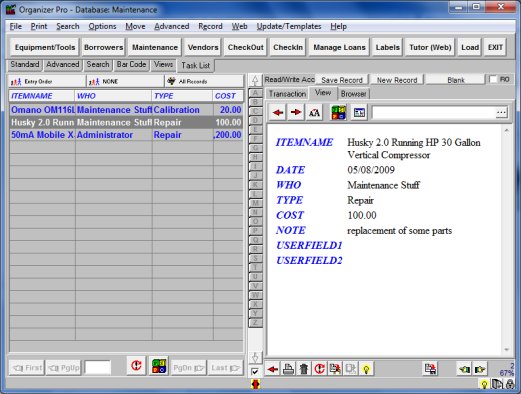 Faq
Simple School Equipment Inventory management system: FAQ

Other Pro Software Solution
Personnel Database Manager: personnel management software.
Invoice Organizer Pro: invoicing and billing software for all kinds of professionals.




Other related pages:
Simple tool crib management system - Simple tool tracker system - Simple tool check in and check out management system - Simple equipment inventory management system - Simple equipment tracking system - Simple equipment check out management system - Simple Business Inventory management system - Simple Lab Equipment management system




Buy Now School Equipment Inventory Software
for Windows
CDrom or download
30-day money back guarantee
PRICE: $245



Small School Equipment Inventory Software by PrimaSoft PC


Key software features:

easily track and manage video, audio, electronic, athletic, tool inventories, borrowers, circulation data
customizable, create your tool tracking solutions
intuitive and easy to use for the beginner
Bar Code functionality
feature-rich and powerful enough to satisfy the most advanced users

We need to track equipment. We have pieces of technical equipment that we loan out to students and clients. We need a system to manage the inventory and circulation of their several thousand pieces of equipment. We would like to process equipment loans, manage inventory, track circulation, and create reports. In the future we want to process transactions with bar bar code scanning. Right now it's over our budget. Currently we are using Access database. We need a system for Windows.

I am looking into to updating our inventory control along with streamlining our Athletic equipment issuing. I came across your software and have been exploring your demo and was wondering if it can be adapted to our needs. For example I issue Football equipment i.e. Helmets, Shoulder Pads, Practice Pants. All of the equipment have individual identifiers how would you software help me stream line my inventory and issuing and tracking? If you have any other info you can send out or a Sales Team i can speak with that would be great , There is a lot of software on the market and have yet to find any specifically designed for my needs.

We are a trucking company and we have equipment such as load bars, furniture pads, pallet jacks etc... that our drivers check out for a load then return when they are finished with the equipment. I thought that your check- in/check-out would be ideal for this but there is no place that I can find that allows for a quantity. Drivers for example may check out 50 furniture pads and 10 load bars for a load they are going to be doing. The only way I see to do this in the check-in/check-out system is to "LOAN" each piece of equipment one piece at a time.

I need a system that will keep inventory (what is on hand and what is loaned out) and check items in and out in quantities. The fine option also looked interesting in your check-in/check-out system. Drivers are permitted to keep the equipment as long as they need but if any equipment is missing when they return the equipment they are charged replacement cost of the missing equipment.

I am working as a chief admin in a small-medium business company. We have 100 strength employee and over 500 items in our inventory. I seek your recommendation to which software your good company offer to store database of employee records and items in the inventory. The database should be able to store images, in this case the employees photo for identification and photos of the inventory items. The software should in one page, show each employees particulars and the other, items in the inventory with other information such as date of purchase, brand, model no.. Etc. I hope I am clear in my request and you would be able to assist me the right software to use.

I am currently researching tool tracking software systems for my electrical contracting company. There are approximately 20 trucks which are equipped with most of the tools needed by employees. There is still equipment such as ladders and other tools that are shared by employees and need to be tracked. Currently, there is no tool tracking system in place. Could you send an estimate of the cost of your software and the equipment (scanner, etc.) which would be required to set up a tool tracking system?

1. How to start School Equipment Inventory Software?
2. Databases included in the School Equipment Inventory Software?
3. How to process tool check in/out transactions?
4. How to purchase labels, barcode scanners?