Software reviewers and users give our product the highest rating.
comment about software: "I have been searching for a easy inexpensive program for the small library we have at Florida Medical Training Institute. When I came across the primasoft Small library I knew it was just what the school needed. This program is so easy to use it is like a dream come true. When I have to print a report of our holdings for the accrediting agency, it;s just click, click click and done. Thank you Primasoft for providing a program that doesn't need a rocket scientist to figure out how to work it." Sally C., Director of Licensure and COmpliance
---
software awards: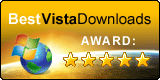 ---

Your software - Simple Library Pro has been reviewed and listed on PCSoftLand. PCSoftLand Review Staff give Simple Library Organizer Pro a rating 5 out of 5!
---
comment about software: "I was very impressed with the Note Organizer Deluxe application. I've chosen it over the Fruitful Time Manager application and the TaskMerlin application. I love the reports, sorting options, and the wonder filter options. I think you guys are great, so please continue to feed my habit for organized notes with updates to this great product.
---
software review: "The installation of Small Library Organizer Pro is easy and intuitive. You can place the program files where you want. When you first start Small Library Organizer Pro you are shown a tabbed Readme that will help you get started. As you will find out right away the use of Small Library Organizer Pro is simplicity itself. It is broken down into three units, the one that manages the library collection (books, CDs, video tapes, DVDs), the borrowers unit and the loan database. Here is what else you will discover the interface is not only well thought out but flexible enough that it can be made by almost anyone into the perfect solution for their library. What I mean is that Small Library Organizer Pro can be changed so that it can fit your particular needs. As you will see everything is very easily understood and more than that makes the job of the librarian a snap. One of the real benefits of using Small Library Organizer Pro is that you can easily add your own custom databases. Plus you can customize the databases that come with it. Not only can you make your own custom database but the folks at PrimaSoft have made up 50 custom databases that you can import right into Small Library Organizer Pro. In conclusion Small Library Organizer Pro is a real good software solution for the small library, it is easy to use, flexible and customizable. I heartily recommend it! " Reviewed By SharewareJunkies
---

Your software - Simple Library Pro has been reviewed by us: Performance: 5/5 User Friendly: 5/5 Cost: 5/5 Ease of Installation: 5/5 Support: 5/5
---
comment about software: "I've tried several book organizers; yours is the first one that does everything I want easily. It's also the first one I'm going to keep. "
---
comment about software: "I just love your book database. I am a children's librarian who likes to keep track of the books I read. Yours is the first database I have found that suits my needs exactly!"
---
comment about software: "In my work I have used some powerful and often complicated database programs, but when looking for a database to handle some very specific, personal data management needs, the Organizer Deluxe suite took the cake. It starts with a fast, easy-to-learn user interface. I was up and running, entering, sorting, searching, and filtering data in mere minutes. Once I had the basics down, I easily moved into more advanced features such as adding new fields, removing some fields, and moving fields to different pages in the record form. As questions came up, I found answers to most in the Help, manual, or online FAQs. I am impressed with the fantastic set of both basic and advanced features available in the Organizer Deluxe programs. In addition, the feedback I received from the Organizer Deluxe team during my evaluation period was great. Thanks! A. Singer, New Mexico USA"
---
Software reviewers from ZDnet gave Organizer Deluxe Series the highest rating!
"PrimaSoft Organizer Deluxe is a complete database system.... Features include import/export capabilities, flexible filters, printing and reporting functions, backup/restore, a built-in HTML viewer, email support, and export to HTML with a wizard interface...... Last but not least, a separate database designer program called Designer Deluxe greatly increases the versatility of the program. It enables you to customize the database structure to the point that you can use it for many different, unrelated applications. In short, PrimaSoft Organizer Deluxe is easy to use and highly versatile. Excellent online help is included."
Program Pros
Database designer
Online help
Easy to use
Highly configurable
Graphics fields
Program Cons
---