TES Library
We are a 200-family synagogue with over 3,500 books and looking to grow it to 5,000 books in the next several years. The library serves our congregants and community and is run by a volunteer staff.
Technology-wise, we realized our current 10-year-old library software would not serve our goal to become a browsing library and patron friendly.
When we were looking for new Library Software vendor, there were three key components we would use to evaluate our choice:
initial one-time costs and then yearly maintenance cost;
software features, flexibility, and ease of use;
vendor customer support;
We found the software costs compared to the other vendors was very reasonable. And while we were using the trial version of the software, we found the support to our questions and requirements was very responsive and quality was quite high. And the feature-rich software and ease of use were top notch.
Finally, the special feature that was offered that made our decision easy was being able to export our computerized book catalog so that it could easily to be searched via the internet.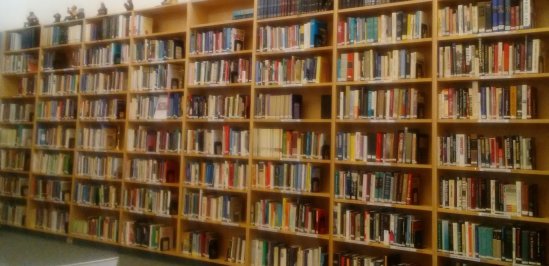 Ronnie Kaufman
TES, Volunteer Librarian
---
Lake Shore Drive Church of Christ
Library Type: Church Library

I'm the librarian for a mid-size church in Texas, working on a volunteer basis in our library as often as needed to process, catalog and shelve new and returned materials.
A few years ago, we began to catalog the items and improve the organization of the library with sections for adults, teens and children, and we have since noticed a corresponding growth in donations and acquisitions of various fiction, non-fiction and reference books, DVD's, audio CD's, and magazines for the members of our church to check out and use.
We began this process of updating the library using library software chosen and purchased years before, but we were outgrowing the original software not long after we started using it. We started with an inventory of around 2000 items, and it is steadily growing so we began looking for more efficient software to meet current and future needs.
When I began looking for the right software, I researched all of them that I could find and tried demos of the ones that seemed to offer what we needed. To be honest, I initially thought the PrimaSoft Handy Library Manager seemed too good to be true. The price was very reasonable and competitive, especially given all the features it offers. One of the major features is that there is no limit on the number of items to be cataloged which allows for the growth of inventory we're hoping to achieve, and HLM offers the flexibility to easily adapt the process of cataloging new items to seamlessly integrate them with items cataloged using the previous software.
We can now maintain a database of items that can be backed up and restored if needed, we have the ability to search the database as well as create and print numerous types of reports, we can use now use a barcode scanner, and we save time and money in the end. The software is easy-to-use, even for those with limited computer and library skills and experience, the online support information is thorough but easy to follow, and the customer support from the PrimaSoft staff is outstanding! I would highly recommend this software!
Cherie Shockey
Lake Shore Drive Church of Christ
---
Spanish Springs Presbyterian Church
Library Type: Small Church Library
Size: 2000 Books
I have recently agreed to manage our small church library collection. I've had experience in public library operation and felt we could benefit from a computerized system.
After meeting with responsible church leadership, it was decided that I should research to see what was available. Some of the qualities we were looking for in our new system were:
- Affordability
- Expandability
- Easy Implementation
- Tech Support

Our goal has been to have a vital collection that supports the mission of our church, provides material to nurture and educate our membership and that remains current and relevant as time passes.
After trial periods with three leading products, we've selected Handy Library Manager. We're confident that we have a system that will meet our needs for years to come.
Judy Soper, Volunteer Librarian
Spanish Springs Presbyterian Church
---
Small School Library.
We have been using School Library Organizer Pro at Talitha Kumi School for about 3 years to keep track of the school books. Talitha Kumi is a secondary Christian German school serving the Palestinian students in the West Bank. It receives support from Berlin Mission Work in Germany, church and through fund raising to keep the school running. The software is user friendly with very good functionality and very stable. It is also affordable compared to other library software. The items being tracked in the software are mainly the school books, periodicals and borrowed items. The librarians are looking after checking items out/in. The library is fairly small. Currently there was a need for recording books with Arabic titles for a small community college (with about 75 students) which is part of the school. This is why we needed the Handy Library Software. The librarians at the school library and the secretary at the community college use application roughly about twice a week. We keep backups of the database on regular basis. The good thing about the software is that the database is easy to maintain.
Talitha Kumi School, Nader

---
Non-Profit Quilting Guild Library
I received the Handy Library Manager for our non-profit Quilting Guild association: Lakeview Quilters' Guild in Houston Texas. I was tasked with finding a new library software product that met all of the guild's needs, with limited budget. My main reason for buying software from Primasoft was the price was right, and the software had all the required features.
We have around 350 members of the guild with close to 2000 quilting specific books for our members to check out at our monthly meetings. We needed to have a piece of software that kept track of what was checked out, by whom, and how many were checked out by that member. If a book was overdue, be able to send reminders to the members to return the book. Handy Library provides all this and more. We have volunteers run our library, with a new librarian each year. They may not be computer literate, as their expertise is in quilting. Handy provides an easy to use Graphical interface that can easily be taught to the new librarian in a single teaching session. I would recommend this software for any non-profit or small group needing library management software.
Thanks again for all you have done with helping me set up this software. You have been a life savior.
Laura Ray IT Representative for Lakeview Quilters Guild
---
Correctional Facility
I provide IT work for a state prison. Our inmates have a library that houses approximately 8000 books. Our state has tried several open-source library database manager programs in the past, but they have been cumbersome, buggy, and easily broken. We frequently rotate inmates in and out of jobs, so ease-of-use is an important factor for us. Handy Library Manager Provides this.
The software was easy to configure, and came with easy to understand instructions. It almost felt like plug-and-play.
Primasoft has always provided outstanding customer support. One of the values in upgrading our software was having the ability to send our database in to be repaired. After five years of use, the inmates had bloated the database to 123 MB. Primasoft was able to clean out the clutter and reduce it to 7MB! As an IT person, I do not have the time and expertise to jump down the rabbit-hole of database management. Primasoft's assistance cleaning the database was worth the investment of the upgrade alone.
I would recommend this software to any organization that has valued staff or volunteers that need to learn the software quickly. Handy Library Manager is a sophisticated program, but it has a very kind learning curb.
WHF (Correctional Facility)
Lee (IT)
---
The community lodge has a dedicated library facility, currently holding a bit over 5000 books. The library is sponsored and funded by the common facilities board of directors, as a free benefit for the thousands of village residents.

Obviously a number of issues were raised. Some things we considered important:
-Aility to port existing 5000 book database across (avoid manually keying in data)
-Ability to auto backup, both locally and to our facility server
-Ability to continue providing 'web' viewable list of current content
-Ability to improve over our current search capabilities by patrons (either locally or remotely)
-Ability to protect database from unauthorized or unintentional modifications, either via patron
-Search or by volunteers - ( a Read-Only search, which our current program does not have)
-Ability to use electronic scan barcode, both for data entry and for inventory audits
-Ability to manually enter and edit data, for the computer averse
-A non-threatening computer user interface, modifiable to custom views and control, both for easier readability and to simplify operation
-Password protect of different access levels (not just one password for all)
-Affordability (it's a volunteer and partially subsidized facility)

Over the holidays, I actually downloaded as many library programs (demos) as I could find. I tried out and compared over fifteen programs (not counting ebook and online services), varying in cost and features the ones seemingly adaptable to our library requirements. I learned quite a lot. In the end, I felt that your new Handy Library program really struck a good balance between power and simplicity. It was something I could modify for all our uses and simplify enough to sell both the non-techies and the experienced but trainable volunteers. It did everything I needed, once I had my questions answered... and again thanks to you for filling in all the blanks.

Paul Stevenson, Community Member
---
Small Church Library.
Library type: Small Church library
Library items: books, a few periodicals, VHS/DVD
Number of items: plus or minus 2000
Software summary: Your software is affordable while at the same time having a lot of features of the more expensive programs. I am very happy with every aspect of the program I have used. There are a lot of features that I haven't needed and therefore haven't spent the time learning.
Application users: when up and running, hopefully church members will do their own check in/out, presently, a librarian is responsible for all aspects of the program
Support comment: I am pleased with support which has always been prompt. Andre has always worked tenaciously with me to get the search fields that I particularly want, set up. Online help is also useful.
Suggestions: Perhaps as I use the program for a longer period of time I will have suggestions for new features. At this point I have nothing to offer here....
Conclusion: As a former public school-, college- and public librarian, I have worked with a few large library automation systems. And at this point I have no complaints about this program's capabilities and the support you offer. I don't hesitate to recommend this program for its affordability and for its capabilities.
Grace United Methodist Church
Elizabeth Thigpen

---
Bilingual school in Chihuahua, Mexico
We're a small private bilingual school in Chihuahua, Mexico. Our students have a variety of books to choose from. We have books in multiply languages, German, Spanish and English books, also a smaller collection of Audio books.
We love your software because its easy to manage our library items! We're very happy with it! Especially with the new update. (Handy Library Manager) Our students mostly read German. The majority loves to read. They get the opportunity to borrow 3 books per week!
Our librarian, Mary has been in charge of our library for the past 5 years! She's the one who's been running the software from the start... We're very happy how our library is organized and how it runs with your software!
Librarian: Escuela La Esperanza

---
Equipment Library.
The Community Television Network is a non-profit Public Access TV station in Portland, Maine. We use the Handy Equipment Tool Manager to keep track of about 200 pieces of video equipment that we loan out to our Access Producers for their video projects. The equipment we manage includes video cameras, tripods, batteries, microphones and cables. We selected Handy Tool Manager because it provides all of the features of programs that are written specifically for Access Stations but at a much more affordable price a big concern for a non-profit like ours. One staff member administers the program and the Check In/Out process is done by one of four staff members using a barcode scanner. The program helps us keep track of overdue equipment so we can ensure that nothing goes missing. The program is very reliable and easy to learn and use.
Brian Knoblock
Media Coordinator
Community Television Network
Portland, Maine
---
An Aspire Public School
Thank you SOOOOOOOO much this is incredible!! I am so impressed with the responsiveness and quick turnaround of this company! You guys rock! Can I request one more adjustment? I would like to make it so that in the Check-Out feature, kids can ONLY check out a book by scanning their library card...NOT by using the borrower "lookup" tab? would it be possible to disable or hide that tab so that kids can't sneakily check books out to anyone other than themselves? that would make this program basically perfect!

I am a middle school teacher running a small middle school library. I am often not available to check books out for students since I also teach. So students need to be able to easily check books out independently.

When I look at the check out/check in tabs, on the left hand side there is a button that says "return all". But I don't want a kid to click "return" without actually having returned the books...this is why I have volunteer librarians handle all book returns. Is there a way to disable this feature so that kids cant pretend to return a book while actually keeping it?
Health Educator & Literacy Interventionist
Berkley Maynard Academy: An Aspire Public School

---
We run an after school supplemental learning program. We are starting a small library of books for our students. We have a little over 400 books (around 250 unique books) that are being managed by this library. When I investigated library software offered on the web, I found that they are mostly difficult to use. I first tried the Small Library Organizer Pro, and it has pretty much all the features that we need. The price is reasonable. But after communicating with a support team, I found that the Handy Library Manager is a newer program. So we adopted it. When I evaluated these two programs, I found that able to lookup (and download) the book information from Amazon (or Library of Congress) by just scanning the UPC barcode, is a great time-saver. Students will check items in and out. The software will be used by one of our assistants, a couple of days a week.
Chesterfield Kumon Center, Kam Chan

---
County Jails - Library
Library:
We are a non-profit operating in two County Jails (Corrections Facility).
Type of library items:
We track paper back Religious materials only.
Number of items:
We manage 250 items per facility (totaling around 450-500 books. Also manage approximately 750 inmates total. This is not maximum number however. If we are asked to serve in additional facilities the operation will indeed grow. Depending on size of any new facility would determine number of additional items we manage.
Advantages:
First, the price, then ease of use. The features allowed for customization to meet our specific needs and the relationship and kindness of primasoft in making the application available to our small non profit.
Software users:
Volunteers handle the entire operation of maintenance, check in and check out, President of non-profit and Sr. Chaplain of both facilities. Software is used 3 days a week at length. We are currently writing a manual for new volunteers.
Summary:
I am very happy with the Handy Library Manager. It has made our life so much easier and the handling of our materials faster and more efficient. Took a bit for me to learn and am still attempting to customize a few things. It is my hope to learn and set up the server/cloud version at some point. Managing over 4 machines is a challenge but have figured out a way that works for us. I would also be happy to send my file to you all, so you can see exactly what we've set up and all our reports and such. While our use may be for a small operation and non-profit it means a lot to us and we are grateful to have it. I recommend this application to anyone needing a system to track and manage materials of any kind they are loaning out.
Freedom Declared Ministries, Inc.
Chaplain Steph
---
Newport Ship Centre Library
... Over the course of 15 years, many archaeologists and conservationists have been working on this project, under the direction of Dr. Toby Jones. During this time, a large number of specialist books and journals have built up, as well as significant donations of books from the Friends and other sources. These are currently unrecorded and stored in boxes. In 2016, the director made a proposal for a proper library to be formed using this book stock of, perhaps, 2,000 items, as a base, but with the intention of continued expansion and purchase of new titles from donations. The objective is to have a dedicated search room adjacent to the reconstructed ship, where scholars and members of the public can study relevant material. Some of the items are highly specialised, some are out of print (but still very important) and some are foreign language, for which there are no other copies in the UK. Cataloguing the library started in February 2017. It is being done by a volunteer, Sian King, who was formerly secretary to the Friends, and is a fully qualified and experienced retired librarian. Working, at the moment, just one morning/week, about 200 titles have now been catalogued, and are searchable. In the future, this catalogue will be available to the public on the website, and they can then visit and consult the material. ... Newport Ship Centre Library
Sian King, librarian
www.newportship.org
November 2017

---
We are a small private elementary school that is connected to a church. Our library is 99% books--primarily children's books. But we also have a fair number of theological books that church members can borrow if desired. The maximum number of items we plan to manage is about 4000. We chose this program primarily because of the reasonable price. When I finish inputting all the data, the students and teachers themselves will be checking the books out. There is currently a part-time librarian who is in charge of the software.
Karen C., Olivt New Church and School

---
Higher Education Commission, library
My organisation is a statutory body that is the regulator for higher education in Fiji. Your library automation software is affordable and user-friendly, so we are government funded. Most of the local IT companies don't have similar types of software that is readily available, thus customisation will cost thousands of dollars. I have just had a brief look through the content of the features, and I must say that it is very appealing.
Frentina A.
Fiji Higher Education Commission

---
HOTEL SCHOOL RIGA College
HOTEL SCHOOL RIGA College We use software in a private college. We organize books, CDs, journals. At present we plan organize about 12000 items. Librarian is responsible for checking in/out process and she is in charge of running the software as well. We decided to use your software because of affordable price.
HOTEL SCHOOL librarian

---
Women's Empowerment, small non-profit library.
Women's Empowerment is a non-profit job-readiness program for homeless women in Sacramento. We have a small library of 800 items, including mostly books, but some DVDs. We use the Handy Library Manager system to catalog all our books, keep track of our patrons (Students, Graduates, Staff, and Volunteers), and check books in and out of our library.
I researched many software programs and this one looked like it had all the features I needed at a reasonable price. Our library is run by all volunteers. I am very pleased with our choice of HLM! It does everything I need it to do, our volunteers are able to easily check books in and out and the technical support when I've had questions has been great. Some of my favorite features are its ability to import book information including photos and details easily by scanning the ISBN code, it allows me to create library cards for our patrons including our logo, and I can set it up to send out e-mails to patrons with overdue books. My only wish now is that the reporting feature was a little more flexible and easier to use, but I can export the database and create what I want in Excel.
Ellen Schaefer
www.womens-empowerment.org
---
Church Library, St. Martha Catholic Church
My experience with this software has been great so far. I'm really glad that I purchased this software and I highly recommend it to any librarians as this would be a great program for anyone to use, even beginners. This program serves our church very well!
Elizabeth B.
St. Martha Catholic Church
Used the software for: 1-2 years

---
Small Catholic School.
I want to create bar codes for the books in our collection and for the borrowers. I am new to this area and need help with this task. We are a small Catholic school with about 300 students and 20 staff members. Our book collection is about 4000 books and about 500 pieces of resource materials that the teaches borrow for classroom use.
My principal is open to the idea of purchasing the Handy Library Manager, the price is right and I think the system is straightforward.
L/D Catholic School, Sister K.
---
Israel Henry Beren High School Library
We are a small, all-boy high school with about 250 students. We are using your software in a library that consists of approximately 10,000 books. Both students and faculty check out books from this library. We have a librarian with student assistants who check items in and out and run the software on a daily basis. We also have an undergraduate and graduate program that utilize works in other languages, your new software supports Unicode, which will enable to use it with some of our other libraries that contain texts in other languages. (approximately 20,000 audio recordings and 50,000 religious works in other languages). The audio recordings are checked out but the religious works are for in house use only. We have been using book organizer deluxe for several years and have enjoyed it organizational and tracking qualities; we're looking to upgrade to simplify the check in/check out process.
David Cynamon
Israel Henry Beren High School/Ner Israel Rabbinical College

---
White Plains United Methodist Church Library
Our library is untended, so we have a self-serve manual checkout procedure. Four volunteer librarians work one morning per week to process and maintain our collection and record check-outs and check-ins. We used to do the latter manually, but with Handy Library Manager we now do it electronically. We have yet not implemented barcodes but know that this will make our work even easier, once we get the physical collection barcoded. We upgraded two months ago from Handy's forerunner, Church Library Organizer Pro, in the middle of a complicated cataloging project when our old software developed a glitch. Though the timing was bad, Primasoft was very supportive, and we are fully convinced that it was a good move. Handy is very affordable compared with other options, most of them designed for much larger libraries, with features we would never use. The support is all done by email, more cumbersome than telephone support or remote access. But the modest cost is well worth this slight inconvenience, and the service has always been courteous and competent. In our case it included provision of custom templates and prompt attention to problems reported early on, as well as responsiveness to requests for new features and help articles. For its personal touch alone, I can happily recommend Handy Library Manager for any small library run by volunteers.
Ann S., White Plains United Methodist Church in Cary NC
---
Church Library
Our church library uses Church Library Organizer Pro and I am well satisfied with the program. In 2011 I assisted in entering our library of about 3000 books, music CD#s, and movie DVD#s into the program. I have now been the volunteer church librarian for about four years. The program could easily manage thousands more books, but we are limited by space. I highly recommend the program for other smaller libraries.
The program readily meets our needs. New books and media are added to the library using a scanner to enter ISBN numbers while using the Auto Catalog + feature. Book labels and bar codes are made right from the program, whether made from existing templates or those requiring custom sizing. It is easy to manoeuvre to various aspects of the program. Books are checked out by children and adults.
As far as recommended changes, when entering books through Auto Catalog, the data provided by Library of Congress or Amazon.com is incomplete. It may be available in the program, but I do not know how to manipulate the data field mapping data to ensure it is downloaded with each book. Also, when printing specific book labels, I must copy it to the end of the database as it only prints from first or current record. I would like to be able to print a single label from within the database.
Clinton United Methodist Church Library
Church Community Library
Our library is a Church (Catholic parish) library that is available for use to the church community. We organize and track: books, audiovisual materials, reference and archival materials. We manage approximately 2000 volumes including audiovisual.
The software was reasonable priced for a small special library. It contains a simpler format for managing a small library. The only problem I have had is that I am not able spend ufficient time in the library to adequately learn the Small Library Pro version. So, the Handy Library seems a good solution. The company provides excellent tech support.
We serve the Parish staff, members of the congregation, and students, using an honor system for check-out. The Volunteer Librarian manages the running of the software with help from a computer teacher in the grade school.
I want to be able to easily print labels for multivolume sets. If there were a ready-made template that you could provide, it would be very useful. Also, I would appreciate a more specific set of instructions on how to create a filter properly for the uninitiated.
THE ROBERT FIXMER MEMORIAL LIBRARY
---
The non-profit, community-based organization, web site: maloto.org.
Our library will be located at a community center in Mzuzu, Malawi. The non-profit, community-based organization, web site: maloto.org. Kwithu Women#s Group (KWG) was founded on the promise of creating a loving and supportive environment for vulnerable children in the Luwinga neighborhood of Mzuzu. The group runs programs and offers a suite of services to community members at the Kwithu community center, including providing hot meals to over 300 children three times a week, early childhood education, after-school tutoring and sports, community outreach and interventions on HIV/AIDS.
What type of items you organize and track in the software: mainly books
What is the maximum number of items you plan to manage: over 1000
Why you decided to use our software: price, and ease of use
Who is checking items out/in: students, teachers, community members
Who is in charge of running the software, how often: hopefully daily, but likely weekly; one of the community center staff members
What are some of the features you would like to see: Our volunteer librarian at WiderNet has imported 100+ books so far from an Excel file. She likes the program and found it easy to navigate. Does it have a Web interface for patrons to browse over their LAN?
Cliff Missen, MA
Director, WiderNet Project and WiderNet at UNC
Clinical Associate Professor, School of Information and Library Science
University of North Carolina, Chapel Hill
http://www.widernet.org

---
Prairie Community Library
We are a volunteer, nonprofit library no public funding is involved. We raise funds through fundraisers and donations. We use the Handy Library to manage books CDs DVDs. We project our Collection to be approximately 20,000 books. We chose your program because of cost, check out is done by volunteers. Software is managed by volunteers. This program has the features we needed to carry out our mission. Thank you, C. W.