Visitor Manager Advanced database software solution:
Ready-to-use, simple database template for tracking visitor. Use this software template to track and organize all your visitor.
Visitor Manager Advanced database features:
easily enter visitor records
print visitor reports
print labels, id cards
search visitor database by any data field
easily process your data: sort, filter, view, delete, modify
enter visitor images
unlimited number of records and visitor databases
export/import visitor data from/to text, excel, and other files
customize Visitor Manager Advanced template by adding your data fields
Database Fields Included:
VISITOR, VISITORNR, VISITTYPE, SHORTNOTE, DATE, TIMEIN, TIMEOUT, DETAILS1, DETAILS2, DETAILS3, DETAILS4, NOTES, IDTYPE, ID_NR, NAME, ADDRESS1, ADDRESS2, CITY, STPROV, ZIPPOSTAL, VNAME, VNR, COMPANY, CNOTE, PHTYPE1, PHONE1, PHTYPE2, PHONE2, USER1, USER2, USER3, USER4, USER5, USER6, USER7, USER8, USER9, PICTURE, DOCUMENT
Organizer Advantage with database template, screenshots:
visitor template: visitor tracking 1 database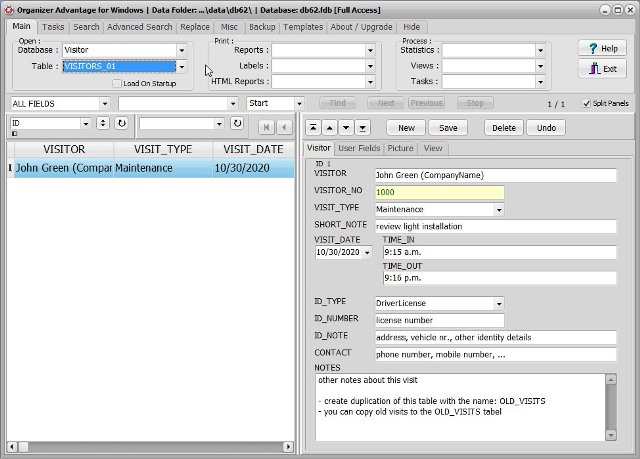 visitor template: visitor tracking 2 database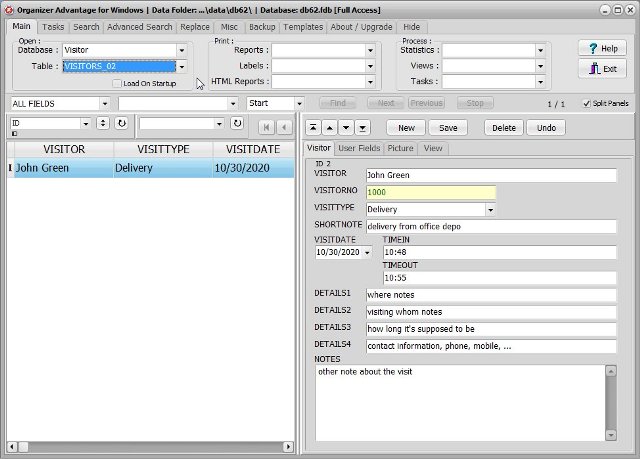 ---
Organizer Deluxe with database template, screenshots:
Database and Software Screenshots :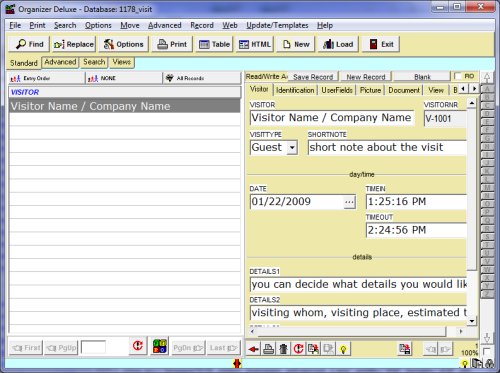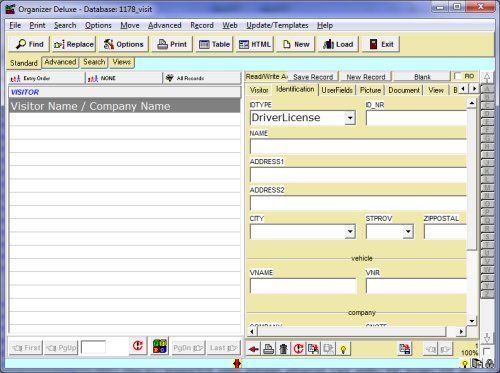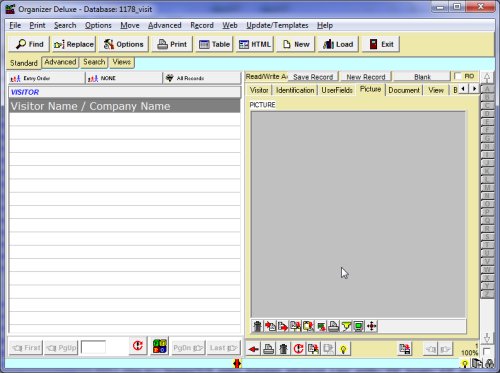 ---
Organizer Advantage Users:
Review instructions: how to install Visitor Manager Advanced template.
---