Volunteer Manager 1 database software solution:
Ready-to-use, simple database template for tracking volunteer. Use this software template to track and organize all your volunteer.
Volunteer Manager 1 database features:
easily enter volunteer records
print volunteer reports
print inventory reports
print labels, id cards
search volunteer database by any data field
easily process your data: sort, filter, view, delete, modify
enter volunteer images
unlimited number of records and volunteer databases
export/import volunteer data from/to text, excel, and other files
customize Volunteer Manager 1 template by adding your data fields
Database Fields Included:
VOLUNTEER FIRSTNAME,VOLUNTEER LASTNAME,VOLUNTEER NAME, STATUS, IDNR, HOMEPHONE, WORKPHONE, OTHERPHONE, EMAIL, STRADDR1, STRADDR2, CITY, STATEPROV, ZIPPOSTAL, DATE, RATING, NOTES, MONDAYS, TIMEMON, TUESDAYS, TIMETUE, WEDNESDAYS, TIMEWED, THURSDAYS, TIMETHUR, FRIDAYS, TIMEFRI, SATURDAYS, TIMESAT, SUNDAYS, TIMESUN, AVAILABLE NOTES, SKILL1ST, SKILL2ND, SKILL3RD, SKILL4TH, SKILL5TH, EXPINT, NAME1, TYPE1, CNT1, NAME2, TYPE2, CNT2, NAME3, TYPE3, CNT3, CNTNOTES, CUSTOM1, CUSTOM2, CUSTOM3, CUSTOM4, CUSTOM5, CUSTOM6, CUSTOM7, CUSTOM8, CUSTOM9, CUSTOM10, CUSTOM11, CNTLOG, PICTURE
Organizer Advantage with database template, screenshots:
volunteer template: volunteer tracking database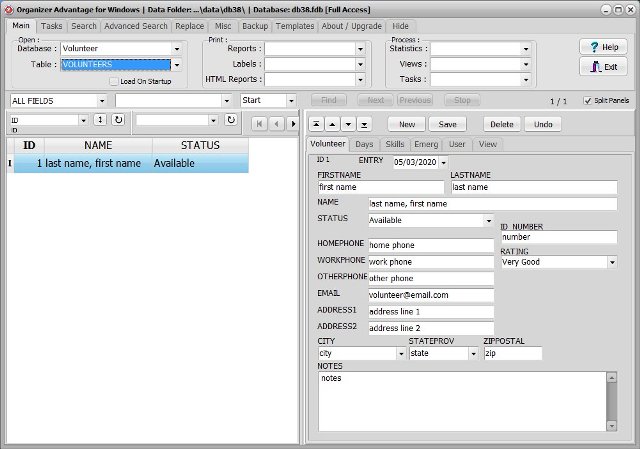 ---
Organizer Deluxe with database template, screenshots:
Database and Software Screenshots :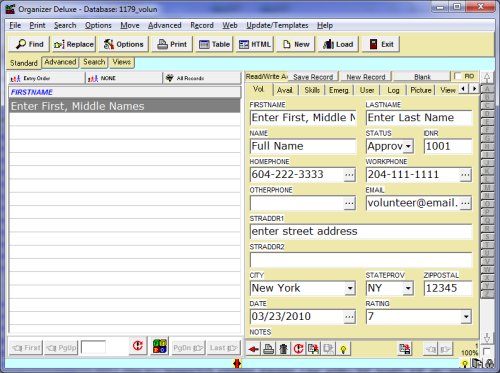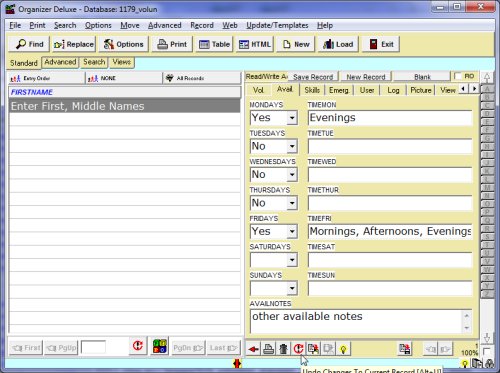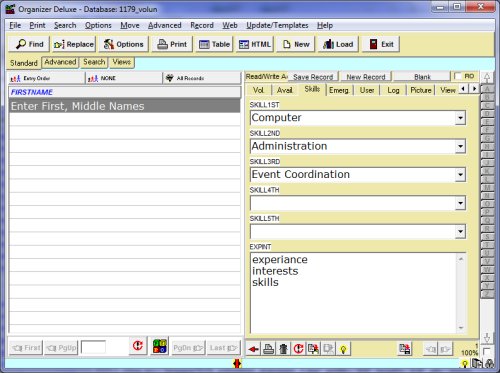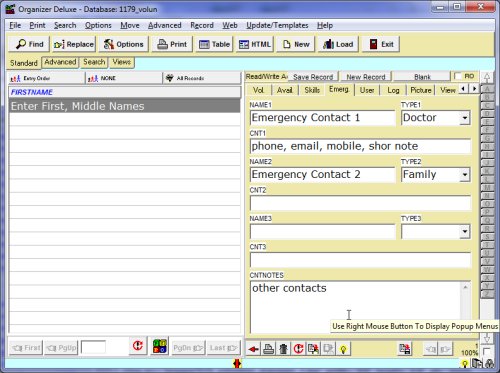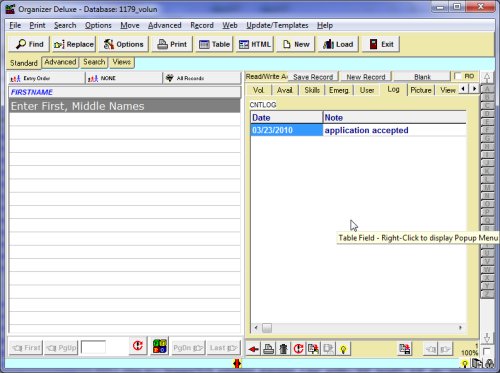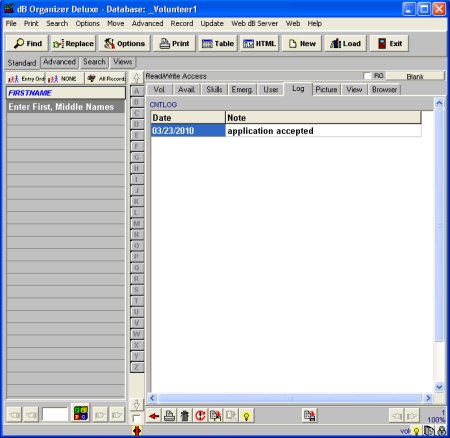 ---
Organizer Advantage Users:
Review instructions: how to install Volunteer Manager 1 template.
---