Volunteer Manager 2 database software solution:
Ready-to-use, simple database template for tracking volunteer. Use this software template to track and organize all your volunteer.
Volunteer Manager 2 database features:
easily enter volunteer records
print volunteer reports
print labels, id cards
search volunteer database by any data field
easily process your data: sort, filter, view, delete, modify
enter volunteer images
unlimited number of records and volunteer databases
export/import volunteer data from/to text, excel, and other files
customize Volunteer Manager 2 template by adding your data fields
Database Fields Included:
FIRSTNAME, LASTNAME, NAME, STATUS, IDNR, HOMEPHONE, WORKPHONE, OTHERPHONE, EMAIL, STRADDR1, STRADDR2, CITY, STATEPROV, ZIPPOSTAL, DATE, RATING, NOTES, MONDAYS, TIMEMON, TUESDAYS, TIMETUE, WEDNESDAYS, TIMEWED, THURSDAYS, TIMETHUR, FRIDAYS, TIMEFRI, SATURDAYS, TIMESAT, SUNDAYS, TIMESUN, AVAILNOTES, SKILL1ST, SKILL2ND, SKILL3RD, SKILL4TH, SKILL5TH, EXPINT, NAME1, TYPE1, CNT1, NAME2, TYPE2, CNT2, NAME3, TYPE3, CNT3, CNTNOTES, CUSTOM1, CUSTOM2, CUSTOM3, CUSTOM4, CUSTOM5, CUSTOM6, CUSTOM7, CUSTOM8, CUSTOM9, CUSTOM10, CUSTOM11, CNTLOG, JOBS, HOURS, TOTALHOURS, PICTURE
Organizer Advantage with database template, screenshots:
volunteer template: volunteer tracking database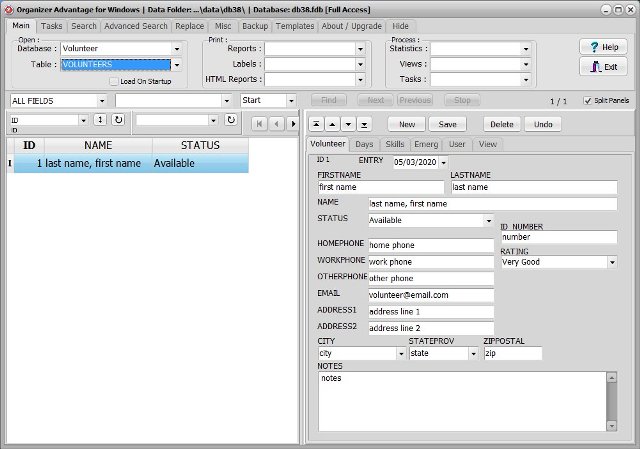 ---
Organizer Deluxe with database template, screenshots:
Database and Software Screenshots :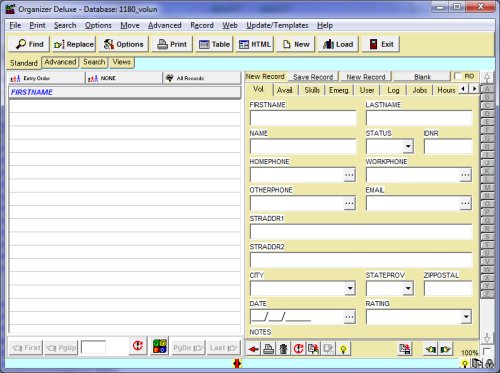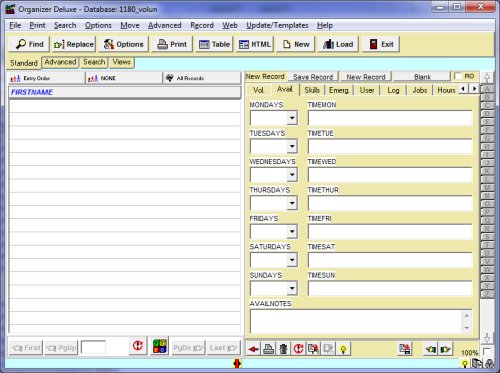 ---
Organizer Advantage Users:
Review instructions: how to install Volunteer Manager 2 template.
---