Book database; track "review and comment the many books I read"; entries in Spanish
I had been using Book Organizer Deluxe since 2000 without a single complaint. During 21 years I used the program daily, some days more intensely than others, to review and comment the many books I read.
Before having this program I would write on the margins of the books or on notepads. Once I bought this program, which allowed me to sort my notes any way I wanted, I started using Book Organizer Deluxe to write all my notes. I was very satisfied because I had them all in one place and was able to find them quickly.
However, I confess that once in a while I asked myself if there was a newer version with more features... but I did nothing about it because the program was so great. Last week, however, I suddenly became very curious and decided to visit Primasoft. I was very happy to discover that Organizer Advantage, a modern version of the program (created specifically for Windows 10) was available. Upon downloading the free trial version, I was very glad to find that all the basic features I use frequently were still there, but also many new features had been incorporated, along with a more modern and elegant look.
I immediately purchased Book Organizer Advantage. With the amazingly efficient and professional customer support of Primasoft, I was able to painlessly and immediately convert my old files, with the customized changes to the database that I had implemented throughout the years, into the new Organizer Advantage. I am extremely satisfied with the new look and the new features. I do not know if this time I will use the program another 20 years because I have learned my lesson: I will never again wait so long.
Organizer Deluxe was good, but Organizer Advantage is greater! I will visit Primasoft more frequently in order to constantly acquire the newest version of this magnificent product. Thank you to Primasoft and to Mr. André Brzezinski.
Luis López
book reviews and comments in Spanish, database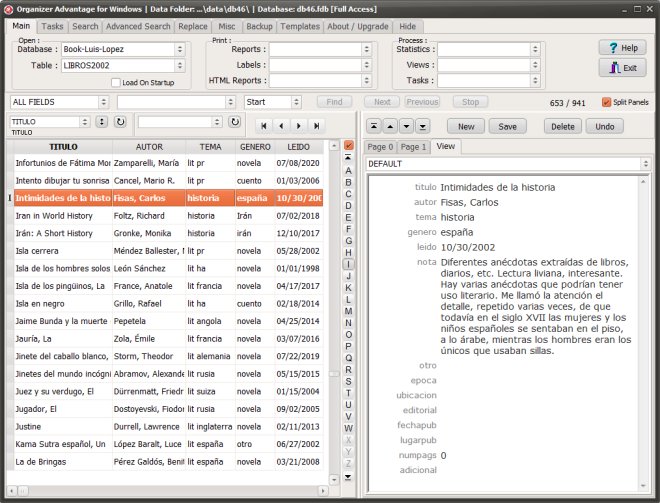 ---