---
Handy Calibration Management is easy to learn and can be implemented in one day. Quickly access all features from the administrator panel.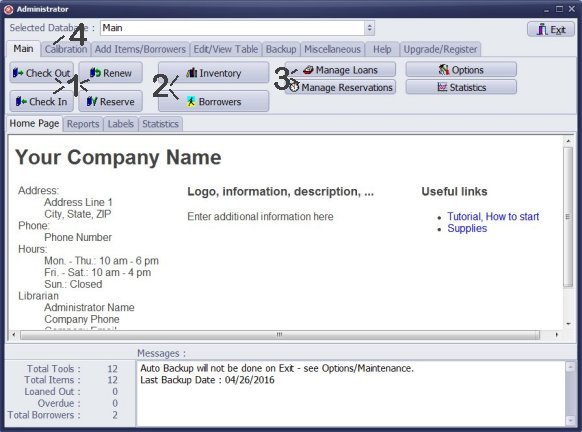 Gage, Tool, Equipment Circulations (1)
Click Check Out to check out measuring tools, specialized devices, and regular equipment, track device usage history.
Click Check In to process returns.
Click Renew to process renewals.
Click Reserve to process Reservations.
Inventory / Borrowers (2)
Click Inventory to open the device inventory management main catalog. Enter gage, equipment, tool records. Define calibration schedule. Print reports and labels.
Click Borrowers to open the borrowers table. Enter technicians, employees, contract companies, tool users and calibration contractors.
Loans, Reservations (3)
Click Manage Loans to review check in/out transactions, summaries, gage/tool/equipment usage history, print reports and overdue notices, email overdue notices, ...
Click Manage Reservations to review reservation transactions, summaries, print reports, ...
Click Reserve to process reservations.
Calibration (4)
Click Calibration to access calibration features.