---
Our Tool Check In/Out Software solutions are desktop applications. You can run them locally on your computer with Windows. You do not need an internet connection to run our software. Our Tool Check In/Out Software solutions are very affordable. There is only a one-time payment. All our apps run on computers with Windows 11, Windows 10, Vista, 8, 7, XP, or Windows Servers. In addition, we provide free trial versions.
Check in, check out features:
process check in, check out transactions with a barcode scanner
process transactions manually using lookup features
display history of processed transactions
transaction window displays a list of active loans
easily verify selected item and borrower with additional data and/or images
speed up check in/out transaction with auto-processing feature
print regular or customized receipts
record additional data in the check out transaction (job/project name, user phone, ...)
define loan rules (tool/equipment limits or time periods per borrower or tool category/type)
Check in/out transaction window from Handy Equipment Tool Manager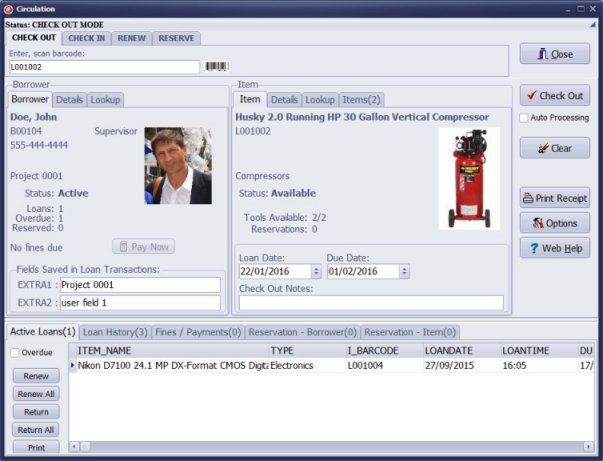 Our department has got a lot of demonstration equipment that we need to manage their whereabouts between the lecturers! The equipment also comes with an operator manual or technical information documents that the lecturers need to have access of.
We are a remodelling company and have a inventory of tools in our back room for carpenters to check out and take to job site for use and they are suppose to bring them back to the backroom and check them in. and at times we need to get the tool to use at another site so we need to know who checked it out and where they are.
I am looking at your products (Check In/Out Organizer Pro and Small Library Organizer or Stockroom Organizer or Equipment/Tool Organizer Pro) for possible use in our Skills Lab at our College of Nursing. I have one question about the Check I/Out Organizer Pro program. Does this program have capability to reserve equipment ahead of the checkout time?
We have a multimedia center and looking for a software to track video and audio equipment. We want our students to check it in and out. There are about 1,000 pieces of equipment. We will need to print barcode labels and tag all items. We want to track/manage, check-in/check-out of the equipment. The type of equipment includes cameras, tripods, projectors, speakers, audio recorders, microphones etc. Good support is a must. We need to track repairs/maintenance of the equipment.
I have tried a couple of your products, Equipment Tracker and Stockroom Organizer Pro. I like both of these products. I like features of both if I could combine them it would be great. What I am looking for is software that allows one person to enter inventory and keep up with the amount of inventory. It also need to allow other people to remove inventory by scanning the product but does not allow them to add any inventory. I also need to be able to generate barcodes and print labels as well as reports .Do you have anything like this? IF you do I would love to try it.
hello thanks for help ..is there a software that you have: that uses min and max Ex. quantities . i have 100 gloves i issue 50 i should have 50 left in my inventory .. my max 100.. my min 25 will there be a sign or a pop up tell me i should order more soon? or a issuing i could issue certain consumables to a Job Ex. i would like to issue 2 pairs of gloves to a person working on a car # 123 belonging to dodge canada a way that i could bill/ charge consumables
Other related pages:
Simple tool tracker system
-
Simple equipment inventory management system
-
Simple equipment tracking system
-
Simple equipment check out management system
-
Simple Business Inventory management system
-
Simple Lab Equipment management system
-
Simple School Equipment Inventory management system