Reviews by: | Church, Synagogue Libraries | School, College Libraries | Community Libraries | Community, Prison Libraries | Software Sites

---
TES Library
We are a 200-family synagogue with over 3,500 books and looking to grow it to 5,000 books in the next several years. The library serves our congregants and community and is run by a volunteer staff.
Technology-wise, we realized our current 10-year-old library software would not serve our goal to become a browsing library and patron friendly.
When we were looking for new Library Software vendor, there were three key components we would use to evaluate our choice:
initial one-time costs and then yearly maintenance cost;
software features, flexibility, and ease of use;
vendor customer support;
We found the software costs compared to the other vendors was very reasonable. And while we were using the trial version of the software, we found the support to our questions and requirements was very responsive and quality was quite high. And the feature-rich software and ease of use were top notch.
Finally, the special feature that was offered that made our decision easy was being able to export our computerized book catalog so that it could easily to be searched via the internet.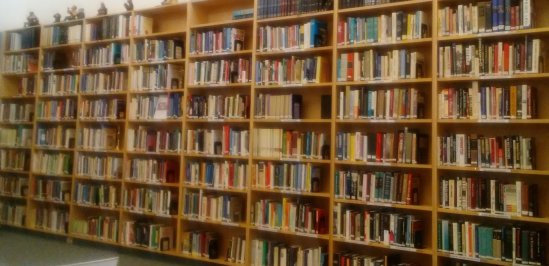 Ronnie Kaufman
TES, Volunteer Librarian
Kansas City, Church Academy Library
This software has been very instrumental in upgrading our small library from a labor intensive system to the latest technology. It has increased our input time tenfold, which has given the volunteer staff more quality time with each student.
Library: Church academy of 140-170 students.
Items: Various reading books, classroom text books.
Size: We have entered over 10,000 books.
We were using a card system which was very labor intensive and we just have volunteers.
Check In/Out: Just the librarian and teachers at the moment. We may have students do it in the future.
Librarian: Volunteer librarian, once or twice a week.
Suggestions: So far it has met all of our needs.
Rating: 5/5 and you have been extremely helpful so far. Thank you!

Comments: One comment I will make, is that certain web help procedures need to be more detailed, as an individual really needs to be used to reading between the lines, to figure out what you are saying. Example: My recent inquiry into how to set a print range just for certain barcode items. Once you sent the picture of the procedure I was able to figure it out. However, you have been extremely helpful and quick in response, which is a tremendous asset to your software purchase .
Steven Patterson Kansas City, Church Academy Library
---
Lake Shore Drive Church of Christ
Library Type: Church Library

I'm the librarian for a mid-size church in Texas, working on a volunteer basis in our library as often as needed to process, catalog and shelve new and returned materials.
A few years ago, we began to catalog the items and improve the organization of the library with sections for adults, teens and children, and we have since noticed a corresponding growth in donations and acquisitions of various fiction, non-fiction and reference books, DVD's, audio CD's, and magazines for the members of our church to check out and use.
We began this process of updating the library using library software chosen and purchased years before, but we were outgrowing the original software not long after we started using it. We started with an inventory of around 2000 items, and it is steadily growing so we began looking for more efficient software to meet current and future needs.
When I began looking for the right software, I researched all of them that I could find and tried demos of the ones that seemed to offer what we needed. To be honest, I initially thought the PrimaSoft Handy Library Manager seemed too good to be true. The price was very reasonable and competitive, especially given all the features it offers. One of the major features is that there is no limit on the number of items to be cataloged which allows for the growth of inventory we're hoping to achieve, and HLM offers the flexibility to easily adapt the process of cataloging new items to seamlessly integrate them with items cataloged using the previous software.
We can now maintain a database of items that can be backed up and restored if needed, we have the ability to search the database as well as create and print numerous types of reports, we can use now use a barcode scanner, and we save time and money in the end. The software is easy-to-use, even for those with limited computer and library skills and experience, the online support information is thorough but easy to follow, and the customer support from the PrimaSoft staff is outstanding! I would highly recommend this software!
Cherie Shockey
Lake Shore Drive Church of Christ
---
Spanish Springs Presbyterian Church
Library Type: Small Church Library
Size: 2000 Books
I have recently agreed to manage our small church library collection. I've had experience in public library operation and felt we could benefit from a computerized system.
After meeting with responsible church leadership, it was decided that I should research to see what was available. Some of the qualities we were looking for in our new system were:
- Affordability
- Expandability
- Easy Implementation
- Tech Support

Our goal has been to have a vital collection that supports the mission of our church, provides material to nurture and educate our membership and that remains current and relevant as time passes.
After trial periods with three leading products, we've selected Handy Library Manager. We're confident that we have a system that will meet our needs for years to come.
Judy Soper, Volunteer Librarian
Spanish Springs Presbyterian Church
---
Small Church Library.
Library type: Small Church library
Library items: books, a few periodicals, VHS/DVD
Number of items: plus or minus 2000
Software summary: Your software is affordable while at the same time having a lot of features of the more expensive programs. I am very happy with every aspect of the program I have used. There are a lot of features that I haven't needed and therefore haven't spent the time learning.
Application users: when up and running, hopefully church members will do their own check in/out, presently, a librarian is responsible for all aspects of the program
Support comment: I am pleased with support which has always been prompt. Andre has always worked tenaciously with me to get the search fields that I particularly want, set up. Online help is also useful.
Suggestions: Perhaps as I use the program for a longer period of time I will have suggestions for new features. At this point I have nothing to offer here....
Conclusion: As a former public school-, college- and public librarian, I have worked with a few large library automation systems. And at this point I have no complaints about this program's capabilities and the support you offer. I don't hesitate to recommend this program for its affordability and for its capabilities.
Grace United Methodist Church
Elizabeth Thigpen

---
We are a small private elementary school that is connected to a church. Our library is 99% books--primarily children's books. But we also have a fair number of theological books that church members can borrow if desired. The maximum number of items we plan to manage is about 4000. We chose this program primarily because of the reasonable price. When I finish inputting all the data, the students and teachers themselves will be checking the books out. There is currently a part-time librarian who is in charge of the software.
Karen C., Olivt New Church and School

---
Church Library, St. Martha Catholic Church
My experience with this software has been great so far. I'm really glad that I purchased this software and I highly recommend it to any librarians as this would be a great program for anyone to use, even beginners. This program serves our church very well!
Elizabeth B.
St. Martha Catholic Church
Used the software for: 1-2 years

---
White Plains United Methodist Church Library
Our library is untended, so we have a self-serve manual checkout procedure. Four volunteer librarians work one morning per week to process and maintain our collection and record check-outs and check-ins. We used to do the latter manually, but with Handy Library Manager we now do it electronically. We have yet not implemented barcodes but know that this will make our work even easier, once we get the physical collection barcoded. We upgraded two months ago from Handy's forerunner, Church Library Organizer Pro, in the middle of a complicated cataloging project when our old software developed a glitch. Though the timing was bad, Primasoft was very supportive, and we are fully convinced that it was a good move. Handy is very affordable compared with other options, most of them designed for much larger libraries, with features we would never use. The support is all done by email, more cumbersome than telephone support or remote access. But the modest cost is well worth this slight inconvenience, and the service has always been courteous and competent. In our case it included provision of custom templates and prompt attention to problems reported early on, as well as responsiveness to requests for new features and help articles. For its personal touch alone, I can happily recommend Handy Library Manager for any small library run by volunteers.
Ann S., White Plains United Methodist Church in Cary NC
---
Church Library
Our church library uses Church Library Organizer Pro and I am well satisfied with the program. In 2011 I assisted in entering our library of about 3000 books, music CD#s, and movie DVD#s into the program. I have now been the volunteer church librarian for about four years. The program could easily manage thousands more books, but we are limited by space. I highly recommend the program for other smaller libraries.
The program readily meets our needs. New books and media are added to the library using a scanner to enter ISBN numbers while using the Auto Catalog + feature. Book labels and bar codes are made right from the program, whether made from existing templates or those requiring custom sizing. It is easy to manoeuvre to various aspects of the program. Books are checked out by children and adults.
As far as recommended changes, when entering books through Auto Catalog, the data provided by Library of Congress or Amazon.com is incomplete. It may be available in the program, but I do not know how to manipulate the data field mapping data to ensure it is downloaded with each book. Also, when printing specific book labels, I must copy it to the end of the database as it only prints from first or current record. I would like to be able to print a single label from within the database.
Clinton United Methodist Church Library
---
Church Community Library
Our library is a Church (Catholic parish) library that is available for use to the church community. We organize and track: books, audiovisual materials, reference and archival materials. We manage approximately 2000 volumes including audiovisual.
The software was reasonable priced for a small special library. It contains a simpler format for managing a small library. The only problem I have had is that I am not able spend ufficient time in the library to adequately learn the Small Library Pro version. So, the Handy Library seems a good solution. The company provides excellent tech support.
We serve the Parish staff, members of the congregation, and students, using an honor system for check-out. The Volunteer Librarian manages the running of the software with help from a computer teacher in the grade school.
I want to be able to easily print labels for multivolume sets. If there were a ready-made template that you could provide, it would be very useful. Also, I would appreciate a more specific set of instructions on how to create a filter properly for the uninitiated.
THE ROBERT FIXMER MEMORIAL LIBRARY
---
Seventh-day Adventist Church Library
We are a church, non-profit library. Our range is Christian books, DVDs, jigsaw puzzles. The current number of items is 4,238 (as at 1 May 2018). Originally we used your previous program then purchased the current program. We have a volunteer library team of 8, including teenagers and the team leader. The library is open every Saturday morning for our church members, this includes families.
Deb,
Seventh-day Adventist Church Library