---
Web Search, Auto-Cataloging
Web auto-search and auto-cataloging allows you to create entries automatically from the Internet. For example you can search books by ISBN number, movies by UPC code.
There are some sites that support a set of functions (free API tools) allowing the creation of the web search and automatic retrieval of data. For example, in our Book Organizer Advantage solution, the program can add book information based on a book's ISBN number, data is retrieved from the Library of Congress search engine.
The Auto-Catalog feature is listed if the program installs with the scripts folder. The script folder includes the set of files that support the web search and the auto-cataloging procedures.
If your organization provides similar web search interface (API), maybe we can help you with the creation of the script files. Please contact us.
On the Miscellaneous toolbar click Auto Catalog.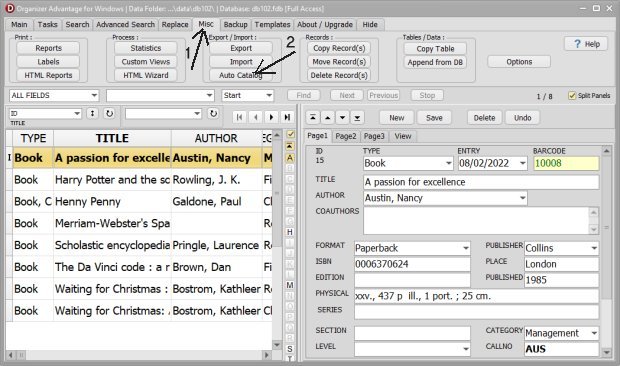 ---