---
Controls used in the data entry/edit forms
Controls are used for entering, displaying, and changing the data. Controls have popup menues, icons, or buttons that offer many useful functions.
Simple Text: Simple Text (1) fields accept text in one line.
Dates: Date Fields (2) store dates.
Drop-Down Lists: Drop-Down Lists (3) allow to select an item from from the list.
Images: The Image field (4) displays image. It stores only link to the image file.
Numeric: Numeric (5) fields store numbers.
Web Browser Field: The Web Browser Field (Web Address Field) (6) allows you to enter Web Page address.
E-Mail: These data fields (7) allow you to enter e-mail address and later start an e-mail application and send email messages.
Memo: The Memo field (8) accepts text in multiple lines. It can hold up to 1GB of text data.
Attachment: The attachment data field allows you to store file names. You can start an associated application with a corresponding file.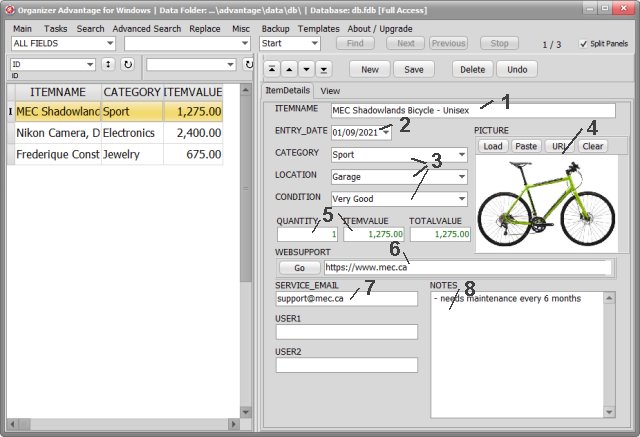 ---